Oh hey Friday! I could not be more happy for this week to be over. We have a jam packed weekend with 3 parties tomorrow (3! I know, insane) and I'm teaching an essential oils class on Sunday. Needless to say my Friday will be spent shopping, wrapping gifts and preparing for the busy weekend.
This sweet tart and I had a wonderful day yesterday. I love when we have girl days. Those are some of my favorite days.
Mia and Kelli tagged me in the sisterhood of the world bloggers award a few weeks ago and I couldn't not answer the awesome questions she asked. I love posts like this because you really get to know the person behind the blog. Plus it's just fun to have a prompt for a blog post. 🙂
So here we go with my Q&A.
1. What made you start your blog? What is the most challenging part of blogging?
I originally started my blog to share my love of baking. It was called Love at 350 Degrees and I only shared a few recipes before I realized that I wanted to blog about more than just food. So that's when A Touch of Grace was born (Grace is Little A's middle name).
I find it hard to find time to not just blog, but to do the behind the scenes stuff for the blog. I have a lot I need to do in this space, it's just finding the time.
2. Current favorite song, you know, the one that you crank up in the car?
Oh gosh this is a tough one. I don't listen to music in the car much (I listen to books during my commute to and from work) but when A is in the car she always requests T.Swift. So I guess I'd say Welcome To New York would be the one we listen to and blast the most.
3. If you could only pick 1 beverage for the rest of your life, what would it be?
If my life didn't depend on it (like water) then I'd pick red wine. I love me a nice, smooth red wine.
4. Dream job & why? #1 priority in life:
I have my dream job; being a mommy. I love my little girl more than anything. I find myself staring at her with tears in my eyes sometimes, just feeling the love flow from my heart. She is the most amazing little thing that for sure keeps us on our toes, but I wouldn't change a thing.
5. You have 1 totally free YOU day, what would your day consist of?
Oh man, that's tough one. I think I'd get up and drink my coffee while reading my Bible, then I'd go to the spa for a deep tissue massage and facial. After that I'd go to Nordstrom, have my makeup done and do a little shopping. I'd end my day with a nice dinner, glass of wine and time watching my favorite show on TV.
6. Favorite trip you've ever been on?
Favorite trip would hands down be K and my's trip to Germany. It's where we got engaged so you can't really top that!
7. You had a million dollars handed to you, first thing you do?
Pay off all our debt. I know, so practical. But a million dollars really isn't much these days compared to what it was 15-20 years ago. I'd then invest the rest and use the dividends to spend 6 months traveling through Europe.
8. Tell me something you love about yourself. / Best character trait & one thing I'd change if I could.
I have always felt myself a pretty good listener. If I could change one thing it'd be my stretch marks. I know some women look at them like warrior marks, but to me all I see is a flabby stomach that will never look the same again. I'm insecure about my physical appearance and having those stretch marks just makes it that much worse.
9. What store do you shop at most (non grocery)?
Target, hands down. Little A and I used to make a weekly trip to Target. I try to go less now but it is by far my favorite store.
10. Favorite recipe & make sure you share 😉
Oh this is a hard one! If we're talking baking, I make this recipe the most. This was one of my first posts (you can tell by the photo….really need to update that) and I make these bars at least once a month. They are super easy and taste delicious!
Bonus question: Who is my role model?
My role model has always been my dad. He came from nothing to be a very successful man. He was a POW during Vietnam, put himself through undergrad and graduate school and always provided more for our family that I could ask for. And on Tuesday he turns 71 years young.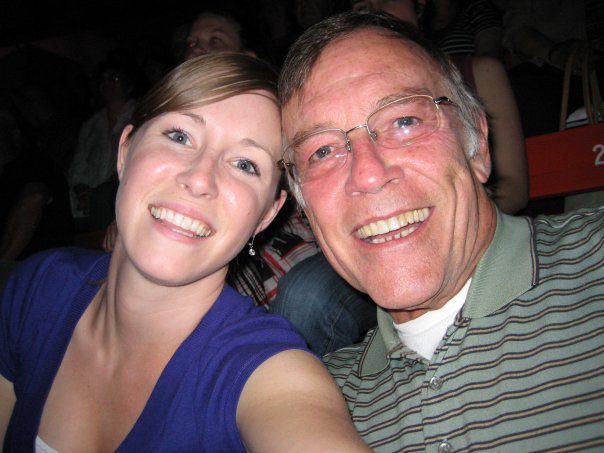 I hope everyone has a wonderful weekend!