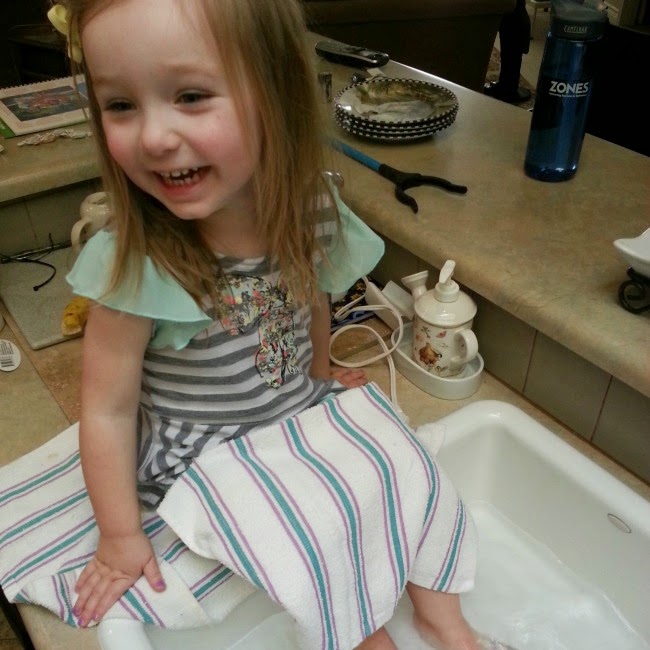 Thank you to everyone who posted sweet comments or sent me messages on yesterday's post. It really means a lot to me to have your support and prayers.
Day 100: We went to my grandma's to help with some paperwork. While I was on a phone call for work in the other room Little A convinced Grandma to give her a foot bath in the sink. She was loving it! That smile just makes my day.
Day 101: If you didn't know Little A has a slight obsession with ducks. We have roughly 356 rubber ducks in our house. And she continues to get more all the time. Right here we have Sheep Duck, Little Baby Duck, Pink Mama Duck, Mama Duck, Daddy Duck and Baby Duck. Very creative naming convention. Every single duck has a name though.
Day 102: I finally started painting the bonus room on Saturday morning! Huebie took baby girl to Little Gym so I could get some priming done. It is a lot of work to cover a color so dark, but I can already see what it's going to look like with a light, bright color on the walls and I'm loving it!
Day 103: We planted our first vegetable (and strawberry) garden! Carrots, beets, broccoli, onion, cucumber, zucchini and lettuce. I really hope we get some great produce out of this!
Day 104: I'd realized on Sunday that she had no warm weather clothes. So we made a quick trip to the store to grab a few things. Of course she had to wear her new clothes on Monday. It was 70 degrees out so it definitely warranted tank tops and capri pants.
Day 105: A glass (or 2) of wine was definitely needed after work. Benson is one of our favorite wineries in Chelan (where our condo is). They have an amazing view of the lake.
Day 106: I just started reading this book yesterday but I can already tell it's going to be a game changer for me. After the last few weeks at work I need something to help me get through the days.
I cannot believe it's Easter weekend! And to think in March I was saying that Easter seems so late this year.
If you aren't yet, I'd love for you to follow me on Instagram (@tiffanyatouchofgrace).
I hope to be back tomorrow with a fabulous Friday post, but if not, have a lovely Easter weekend!