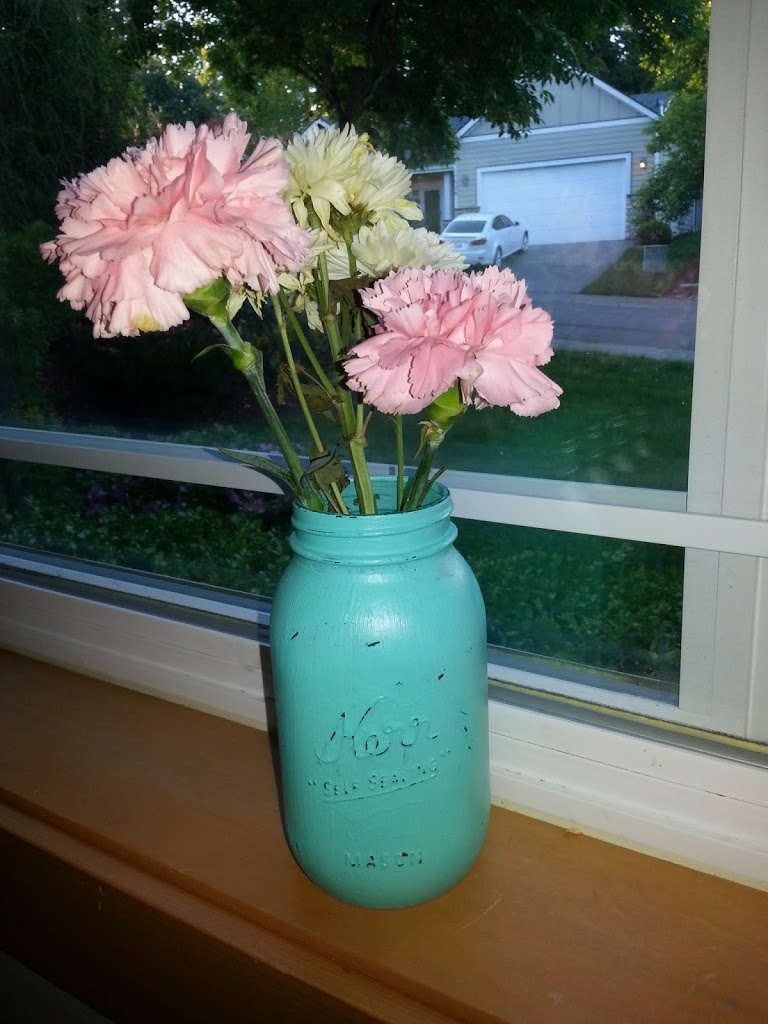 I hope everyone had a fabulous weekend! I for one did. Like I said during my Fabulous Friday post, we went to visit my bestie and her family over the weekend. Baby A did great on the long car ride (thank the Lord!). We knew we wanted to do a Pinterest project, but we bit off a bit more than we could chew on Saturday.
We started with these fun Vintage Painted Mason Jars, which you can find Here. They turned out pretty well, but I think I should have antiqued mine a bit more. That just means I'll have to do it again (oh darn!).
I, of course, wanted to bake. I'd been dying to make Laura Bush's Texas Governor's Mansion Cowboy Cookies. They look A-Mazing and any cookie that has chocolate chips, oatmeal and loads of sugar is of course going to taste A-Mazing as well. And let me tell you, they do. The recipe makes a boat load of cookies, so we had to indulge in a few….or 5 or 6. Who knows I lost count. But we were on vacation right?! You can find the recipe Here.
Now this is where things went a bit awry. I have been wanting to do a yarn wreath, but just….haven't. So we ventured off to get the supplies and settled on a summer wreath with yellows and oranges.
Of course being economically minded girls we bought the large spool of yarn (see photo above for reference) instead of 3 or 4 small ones, not realizing that we'd have to some how divide the yarn up (yeah, this didn't cross our minds at the time). So we get the kids down and start the project and Beth starts to unwind some yarn for herself. And she keeps going, and keeps going and pretty soon she has like, I don't know 200 yards of yarn wrapped around her arm. Sweet! Let's get wrapping!
Well, in case you didn't know, if you don't unwrap yarn (or any other stringy thing for that matter) correctly, it will knot. So we spent a decent amount of time getting the knots out of her 200 yards of yarn. And a project that should probably take…oh, maybe 2 hours or so, turned into a 4 hour project.
And then it was almost 1 AM and the men were helping get the knots out and everyone was exhausted, but we were determined to get everything unraveled and ready to finish in the morning.
And here is the finished product! Love the colors! Totally worth the 4+ hours it took to make. I need to get some pretty green ribbon to hang it on the front door.
So glad I got to spend some quality time with this lady. Thank you Beth and Tony for having us!
I hope eveyone has a wonderful week! I know the Huebie's will be getting out to enjoy the sun while it's here. Maybe it's here to stay for summer?