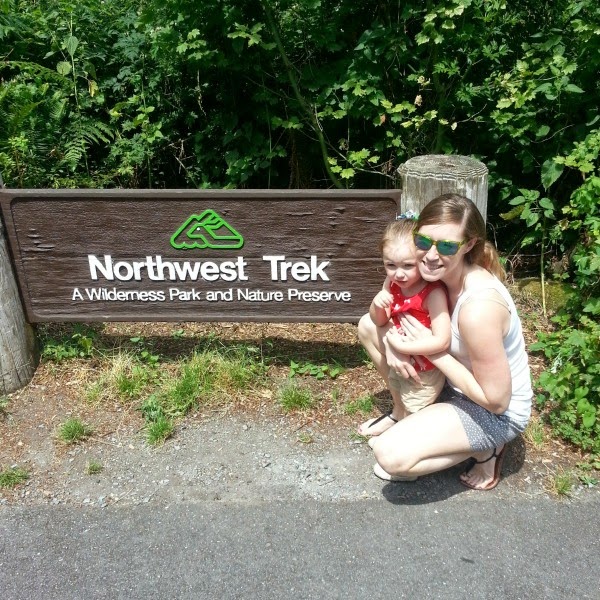 In last week's #graceeveryday2014 post, I told you a bit about Northwest Trek. Well, I got a lot of feedback that y'all wanted to see more photos and hear about our visit. So here you go!
*This is not a sponsored post. Just a recap of our awesome trip to visit Northwest Trek.


Northwest Trek is about an hour south of Seattle, on your way to Mt. Rainier. It's a 725-acre nature preserve, that is home to more than 200 animals. In 1971 the land was donated by a local doctor and his wife and the park opened in 1975. Amazing to think how long it's been open!
We got there right after it opened, to avoid the crowds and the heat.
This tree was thousands of years old when it was cut down. The markers show different points in time to show how old it really is. The marker in the center is when the tree's life began, in 1335. So crazy.
Before the tram tour, we walked around to a few of the animals.
Little A loved seeing the Barn Owls and Snow Owls.
Then we lined up for the tram tour. Right outside the gate there was a family of caribou.
I did not know that they shed their horns every year and regrow them. While they're growing they are covered in velvet-like fur.
The tram takes you through the 435-acre free-roaming area of the park. Moose, elk, big horn sheep, bison and more life in this part of the park.
You get right up close to the animals.
The views are amazing from the park as well.
This bison was sitting in a wallow by himself. The naturalist told us that he'd lost a fight with another bison so he was basically ex-communicated from the herd. It was actually really sad to see him sitting alone.
Here is the rest of the bison herd. They were only about a quarter mile down the path.
The tram is open air, so there's a decent breeze, but it was still pretty hot. Little A was getting tired by this point.
This guy was trotting over to see his friends.
Mama and baby right outside the tram gate.
You can tell they were still shedding their winter coat at this point.
Once the tram tour was over (it takes about 50-60 minutes) we did some more walking to see other animals.
I was most excited to see the bears.
They were laying right up close to the viewing area, so we got a good look at the brown bears. Just massive animals. The black bears weren't as cooperative.
I'd never seen a Wolverine before.
They are pretty small. About the size of a beaver or otter, but they are sure ferocious!
They had misters set up around the park for you to cool off in. Little A took full advantage of them at the end.
We had a great time visiting Northwest Trek and will definitely be going back soon.
Do you have any awesome wildlife preserves like this in your area? I'd love to hear about them in case we ever visit a town near you!