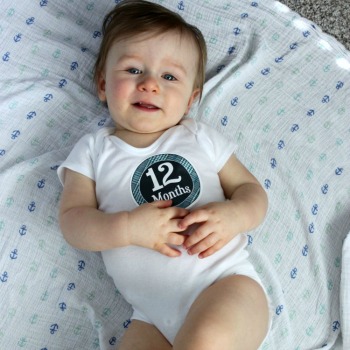 A few weeks ago EJ turned one. And while a little part of me died inside because he's no longer a "baby," another part of me rejoiced because I'm excited for this next phase in his little life.
Stats
Weight: 25 lbs (93rd) percentile
Height: 33 1/2 inches (100th percentile) He gained 3 inches in 3 months!
Diaper size: Still 4
Clothing size: 24 months and some 2T (he can still fit into some 18 month clothes, but I'm phasing them out)
He got mistaken for a 2 year old the other day. Not surprising since he's the size of one. I get a lot of "he's a big boy" comments. He's not a chunky baby, just an overall big boy.
Development
We are days away from walking! He's taken lots of steps on his own, and will walk between me and Kellen, but he's still nervous to venture out on his own. He'll walk holding one of our hands, so he's definitely capable.
He now says "sis" for sissy. He loves her so much and is always wondering what she's doing.
He can clap, wave and sort of say "hi."
He is obsessed with water, and tries to climb in the tub as soon as he knows it's bath time.
He babbles constantly.
Food
He still eats everything! I only give him baby food once a day, and give him things like cut up grapes, bananas, peaches, peas, chicken, cheese and other things the rest of the time. He loves feeding himself still.
We finally found a sippy cup he likes and won't spit all the water out of. We're also trying different milks with him. So far he doesn't like vanilla almond milk, unsweetened almond milk or whole milk. Not sure what to do about that since I'm hoping to slowly wean him over the next month and a half, in preparation for a girl's weekend at the end of May.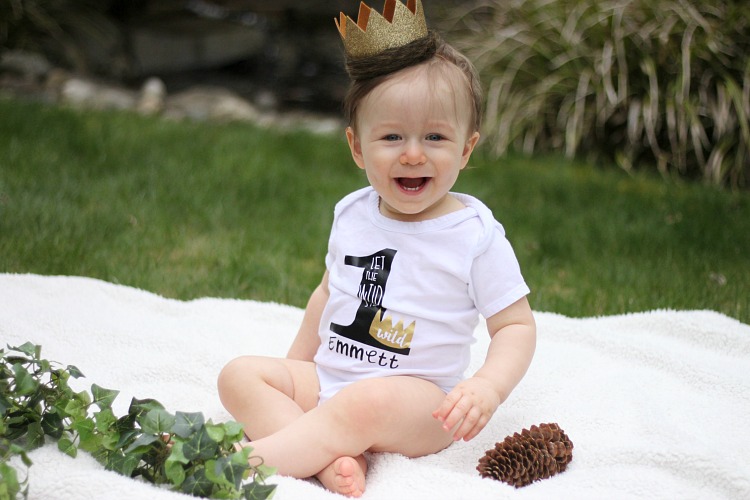 Sleep
He is finally back to being my amazing sleeper! I broke down and hired a sleep consultant the week before he turned one, and oh my god y'all, she was amazing! Seriously, I wish I'd done it sooner. Within a few days he was sleeping through the night! We had a few issues when Kellen came home, but they were short lived. If anyone is looking for help with sleep, let me know and I'll send along her information. She was completely reasonably priced and created an entire plan for us based on our goals, schedule and what we were comfortable with.
Likes & Dislikes
Loves crawling through small areas (between chairs, behind the couch, under tables)
Loves bath time and being in the tub, even with no water
Loves talking. He babbles all. the. time.
Loves making raspberries with his mouth. Usually when there's food in it.
Dislikes being in the corral, so we took it down (now that we have a gate at the bottom of the stairs)
Dislikes when Mama leaves (This is the hardest. He cries bloody murder for my parents.)
Loves to pull sissy's hair.
Loves to snuggle still and I eat it up. He gets so excited when you pick him up and lays his little head on your shoulder. Melts me still!
Loves all things non-toy related. He has a few toys he likes, but he'd rather play with the vacuum.
Loves pushing sissy on his truck scooter thing.
My boy is still just the happiest little guy. He truly completes our family. I'm excited to see how life changes once he starts walking and talking a bit more. I can already tell I'm going to have two chatter boxes on my hands, haha!
Thanks for following along on these quarterly updates! You can see EJ's other updates HERE.
Have a great Wednesday friends!