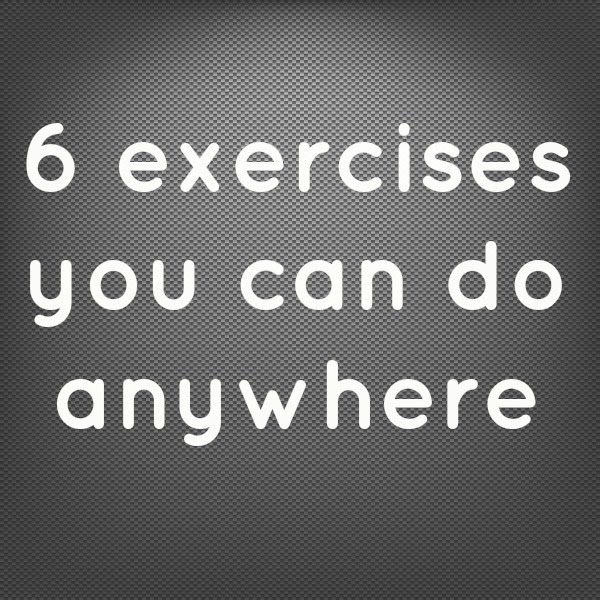 Hello friends! Sorry for the late post today. We had a busy weekend, full of fun activities but also some work. We have a lot to do to get our house ready to sell, so you may see me dropping in with some late posts in the coming weeks.
Today I wanted to share with you my favorite exercises that you can do anywhere. Without fail, you will always see me doing these moves. You don't need a gym or weights (but weights can be incorporated), and they can be just as effective at burning calories as lifting heavy weights.
Lunges: Forward lunges, backward lunges, jumping lunges, lunges with weights. I do them all. A lot. I love lunges. Love them so much. You can incorporate dumbbell bicep curls into your lunges, or do some side lunges with dumbbell arm raises. They are great at building muscle and getting your legs lean and mean.
Push ups: Push ups are an awesome exercise because they work so many muscles (pecs, triceps, deltoids, abs). There's a reason the military uses them as part of their physical training.
I've heard a lot of women say they hate doing push ups because they have no upper body strength. There's no better way to increase your upper body strength than by doing a few push ups. Start incorporating some knee push ups into your daily routine and before you know it you'll be able to do 10 perfect push ups without stopping. It's baby steps and I'll tell ya, there are days when I have to get down on my knees to finish out my set. That's ok, just keep going!
Plank holds: Not only do plank holds work your core, they also help with your balance. There are multiple variations of planks you can do including side planks or planks with leg lifts. Start small, doing 15 second holds, then increase by 5 seconds each week. You'll be at a minute in no time!

Squats: Another favorite of mine, I incorporate jump squats and single leg squats into my routine on a weekly basis. Speed squats do a number on your thighs and booty as well. Make sure you keep your knees behind your ankles! If you have dumbbells or kettlebells, hold those chest-high while doing some controlled squats. They will kick your booty!
Jumping jacks: Jumping jacks you might say? Yes, jumping jacks. They incorporate your whole body and really get your heart rate up. I'm trying to do 100 jumping jacks a day every day for a month and I challenge you to do the same. Try it!
Crunches: I know everyone has their own opinion on crunches, but I still think they are a great exercise. Whether you're doing a full sit up, or just a crunch, holding your core is key. This will keep lower back pain at bay. And don't pull on your neck! That's probably one of the biggest mistakes people make when doing crunches. Let your abs do the work, not your arms and neck.
Try doing crunches with your legs raised, or reverse crunches to target lower abdominal muscles.
Start incorporating these moves into your day. Even with just 10 minutes of work a day you'll start to see a difference.
Question of the day: Do you have any favorite exercises you do on a daily/weekly basis?