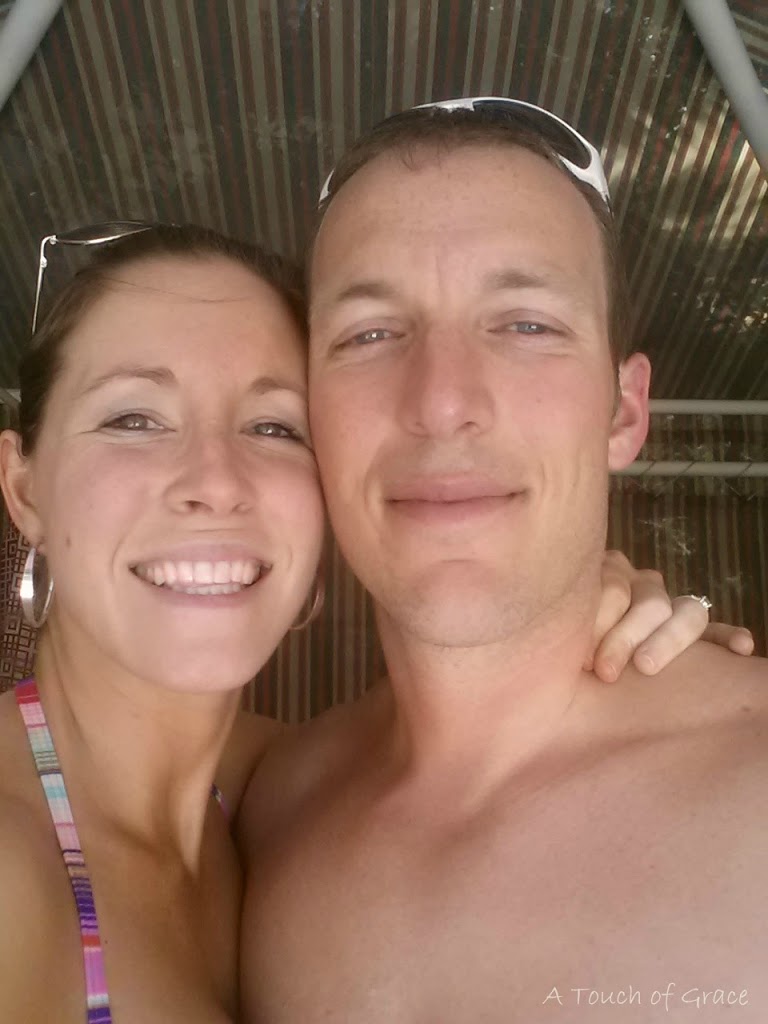 Happy Memorial Day everyone! I hope y'all are enjoying the extended weekend with family and friends. Huebie and I had a fabulous time in Vegas, but were of course ready to be home and see baby A. Here is Vegas at a glance:
We stayed at Mandalay Bay. This was our first time there and let me tell ya, that place is A-Mazing! I think being so far down the strip they have to offer a lot for folks to do and they succeeded at that. There are TONS of restaurants, their pool area is equiped with a real beach and wave pool, lots of shopping (score!) and the casino is huge! Well done Mandalay Bay, well done.
When we got in we headed straight for the pool. I rented us a cabana for the day; well worth the $$ when it's that hot outside.
It came equiped with a fan, fridge with drinks and a TV. Not too shabby. Plus, it was so nice to be able to get out of the sun when we wanted without leaving the pool area!
What is the one thing you never want to forget when you go to Vegas? Besides $$? Sunglasses. And yes, I completely forgot one of the 2 brand new pairs I bought for the trip. Thank you golf store next to the lobby for this pretty decent pair. And for $15!
There was a bit of an issue with our first room, so we ended up getting moved to The Hotel, another part of the resort. No biggie really, plus we got a larger room!
We ended up at the buffet for dinner that night. I know, 10+ restaurant options and we go to the buffet. But let me tell ya, it was well worth the $30 per person. Probably one of the best buffets I've been to in Vegas. We walked around to get use to the layout of the hotel, and stumbled upon a photo gallery. The photographers name is Peter Lik, and if you've never seen his work go right over to www.lik.com and check it out. He's been inducted into the Smithsonian twice. His work is indescribable. His photos alone are amazing, but then he uses crystals in the paper and it makes you feel like you are in the photo. The way the light changes the photo as the sun moves across the sky is something you have to see for yourself. We will definitely be saving our $$ to invest in one of his pieces some day.
Since we'd been up since about 3:00 am, we ended up making it an early night. Lame, I know, but we don't get nearly as much sleep as we should, so it was nice to get 10+ hours! Woke up refreshed and ready to go Friday morning!
We decided on a morning run to the Tix4Tonight booth to get our discount Cirque tickets! If you've never been to a Tix4Tonight booth (there's one in NYC for Broadway shows as well) it is well worth the wait in line. There are probably about 6 or 7 booths in Vegas and they give discounts on a few Cirque shows, tons of comedy shows and other productions, and even restaurants. I always try to see a Cirque show when we're in Vegas. The Beatles Love here we come!
Huebie wanted to go to the Shark Reef so we spent the afternoon there. I was worried it would be lame for $18 per person, but boy was I wrong. In my opinion it was better than the Seattle Aquarium that we frequent.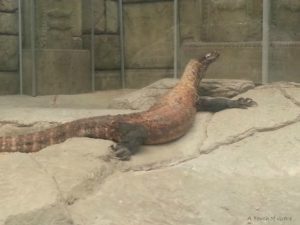 Saw this little guy when we first walked in. Good lord that is a scary sight! A Komodo Dragon is probably one of the things I am most afraid of in life. Not sure why, it's not like there are any around here, but just the thought of those talons makes me fear for my life.
Lots of sharks and exotic fish to see. They had a few areas where you walk through the tanks. Really cool to see all the fish and sharks swimming around you. If you ever get down there I highly recommend it. Kids would love it!
We then did a bit of gambling. Made friends with the blackjack dealer who liked giving Huebie a hard time. Came out even for the afternoon.
Then it was time to meet our family friend Rusty for happy hour at Mix, 64th floor of The Hotel.
What a sight it is from the top of the hotel let me tell ya! Amazing views! This is just from where I was sitting during happy hour.
We then headed to dinner at RM Seafood, which was so good. Never thought I'd get good seafood in the desert but it really was awesome.
Love shows at the Mirage, so we took a taxi down. Probably would have been good to know that Flo-Rida was in town and playing a concert there because it was INSANE! Plus, the blackjack dealers took all our money! Those jerks at Mirage!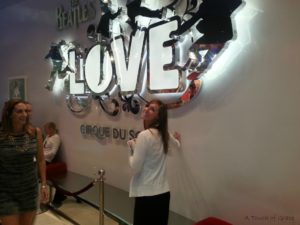 Had to grab a quick pick after the show! I heart The Beatles. It was, of course, a great show. Different than most Cirque shows. Not as much about the acrobatics and more about the story and history of The Beatles, which was fine with me, but I know Huebie loves those acrobatic shows more.
Took about an hour to get back to our hotel with all the concert goes trying to get a peak at Flo-Rida, but when we finally made it back we headed straight for the blackjack tables to find our lost money. Thank you Mandalay Bay for being good to us! We ended up breaking even for the weekend which is alright with me!
All-in-all it was a great first trip away from baby A. I would have liked another day at the pool, but 2 days away from her was perfect. So glad to be home with most of the weekend left to snuggle my little bug!
Have a great week everyone!