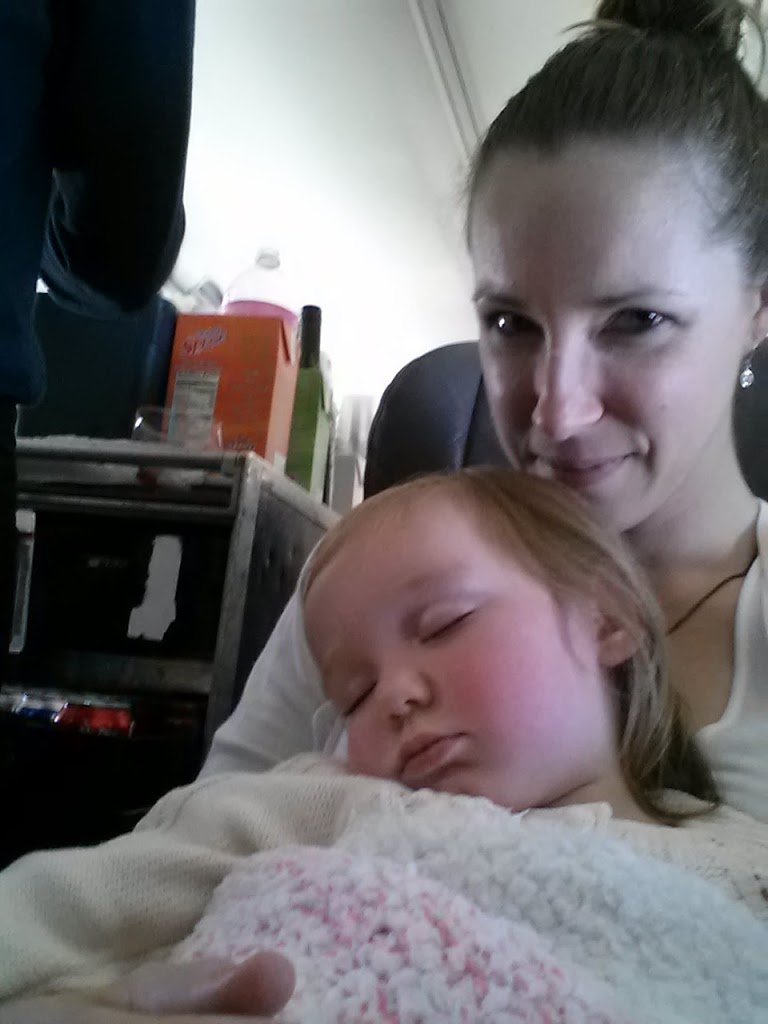 I hope everyone had a fabulous weekend! I know it was hot here in the Seattle area, so hopefully all my local friends were able to stay somewhat cool.
We, or course, went to where it was sweltering hot: Phoenix. Huebie was already down there on business, so baby A and I took a long weekend and went to meet him. And if you think 95 degrees is hot Seattle, try 120 in Phoenix! Holy hotness! I mean I've felt hot, but that is H.O.T. HOT!
Here's a little recap of our weekend.
We spent most of our time at the pool, or in the house, since it was so darn hot!
She loved tooling around in the little car floaty.
You can walk in and out of the pool, which was nice if you just wanted to get your feet wet.
Safety first! Have to hold Dada's hand. She is totally mean muggin' me here. Ha! She hates having her picture taken lately. I miss my little ham!
I don't really like to swim, so here's where I spent a good part of my time.
Yes, I got in, but just to cool off and play with baby a little bit.
Saturday was the hottest day, so we decided to head to Sedona, where it was supposed to be a bit cooler (110 degrees…I know right?!). The drive was beautiful once you got into the Red Rock area.
The red rock was so amazing to look at. The way the rock is shaped and carved out is truly a wonder.
We didn't stay long because everything is outside there, and baby A was way too hot, so we took our time heading back and stopped to see a few sights.
This is the Chapel of the Holy Cross, and it is literally built into the rock. It was inspired and commissioned by a sculptor. In her words, "Though Catholic in faith, as a work of art the Chapel has a universal appeal. Its doors will ever be open to one and all, regardless of creed, that God may come to life in the souls of all men and be a living reality."
It really is a site to behold. We didn't go in since baby A was sleeping, but just driving around it and seeing how they constructed it is aw-inspiring.


We spent more time by the pool that afternoon, and Sunday went to the Phoenix Children's Museum.
This place is fantastic! Baby A spent quite a bit of time opening and closing all the mailboxes. Her inner OCD comes out like her mama sometimes. 🙂
Staring down her oponent down. "Eat my dust little girl!"
She loves playing in the kitchen. Hopefully she's a more creative cook than her mama.
3 floors, and they had a whole race track area for the kids. She couldn't quite reach the pedals on the tricycles, so we scooted instead.
We literally could have spent all day there, there was so much to see.
But as we headed home, this is how we spent about half the flight (thank you again Lord!)
And thank goodness Dada was there this time. Mama lost her drivers license between checking in and security (you want to see sheer panic? You should have been in the airport with me trying to hold back the hysterics and tears. It wasn't pretty.) Luckily someone turned it in, but not after the rigorous screening I received at security. I literally thought I was going to be stuck there.
One last pic, waiting for our luggage to come at home. Just chillin'.
All in all it was a good trip. I wish we'd had a bit more time to look around and that the weather was a little (ok,a lot) cooler so we could hike, but we're heading back in August and I'm sure we'll be down there a few more times this year after that.
How did you spend your weekend? Were you able to enjoy some time outside?