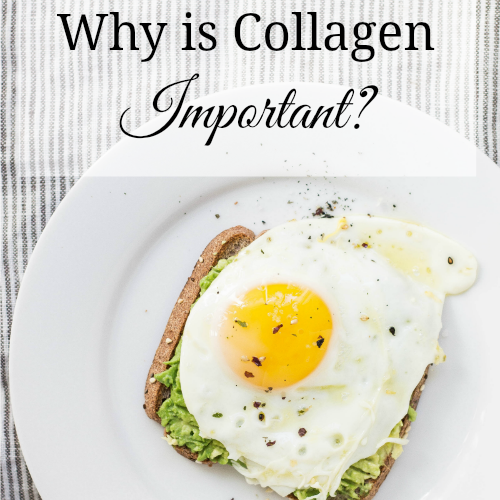 Collagen is a vital building block for our bodies. Read on for answers to the question why is collagen important for our bodies, and understand why you'll want to make sure you're getting enough in your diet.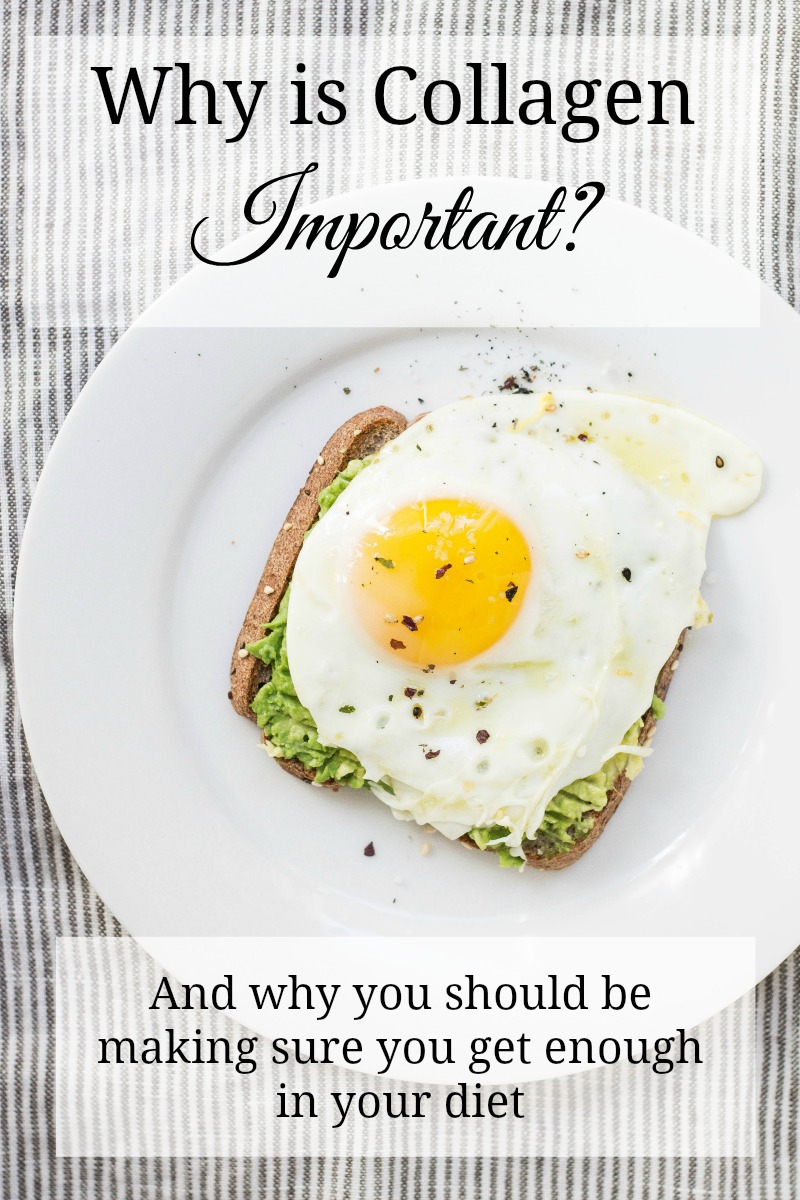 Collagen has recently become a big deal in the health and wellness space. But let's be honest, it's always been a big deal. People are just realizing more and more that we need to be getting extra collagen through nutrition. Our bodies become less and less efficient at producing collagen as we age. After the age of 30, our collagen levels drop 1-2% a year. By the age of 40, we have lost 10-20% of the collagen in our bodies. (source) This can lead to fine lines, some wrinkles and looser skin, and it can affect our skeletal system as well (hello joints and ligaments)! So it's important for us to find ways to make sure we're ingesting collagen in our diets.
What is collagen?
Collagen is a structural protein found in our skin and connective tissues. 30% of the protein in our body is collagen. That's a huge number for one form of protein! Collagen is what helps give our skin it's firmness and elasticity, but it's also found in our muscles, bone, blood vessels, digestive system and tendons. In our skin, it helps replace dead skin cells. And in our tendons and joints, it's basically the glue that holds them together. So yep, collagen is kind of a big deal.
What are the benefits of collagen?
The benefits of collagen are numerous.
Reduces joint pain
As we age, the loss of collagen can manifest in joint pain. Our tendons and ligaments don't move as easily, which results in stiffness and swollen joints. Collagen allows us to move without pain; it is like lubrication for our joints and helps them move more easily.
Strengthens Hair, Nails and Teeth
For years and years I had the worst peeling nails. I never knew why. Until I started adding collagen into my diet, and my nails got so much stronger! Collagen protein is a building block of our hair, fingernails and teeth. Supplementing with collagen can help increase the strength of all three.
Improves the Health of Skin and Hair
Not only does collagen strengthen our hair and make it look healthy (who doesn't like shiny hair?), it also helps keep our skin looking more youthful. As we age, we start to notice more wrinkles and looser skin. Increasing your collagen intake can help increase smoothness of the skin (less wrinkles and fine lines) and keep your skin looking firmer. It also helps skin cells renew and repair themselves.
Boosts Metabolism and Muscle Mass
Collagen is rich in amino acids, a building block of our muscles. Increasing our muscle mass can result in increased metabolism (because muscle burns more calories than fat), thus resulting in more calorie burn at rest. This can be especially important as we age, and generally become less active.
How to get collagen into your life
There are lots of creams and lotions out there that claim to boost collagen. But the best way to get collagen into your body is through nutrition.
Bone Broth
Bone broth is one of the best ways to get collagen protein into your diet. We use bone broth in place of traditional broths in all of our recipes. A lot of my friends make their own broth, but I don't have that time, nor dedication, so we buy ours. It's just so convenient these days! Kettle & Fire is an amazing brand of bone broth that a lot of folks in the keto community use. We use Kettle & Fire, or Pacific. More brands are coming out all the time.
Some of the ways we use bone broth:
Making or drinking real bone broth. The flavor is fairly mild, so it's good to consume on it's own.
Using bone broth in our cooking (replace chicken or beef stock with bone broth).
Make bone broth soup. We add some veggies to ours for a tasty vegetable soup that gives you a kick of protein.
Eat collagen rich foods
Wild caught salmon – I swear salmon is good for so many things when it comes to nutrition our bodies need. The omega-3s contained in salmon help reduce inflammation and promote healthy skin. Wild caught salmon also contains, zinc, which has been shown in studies to promote collagen synthesis. (source)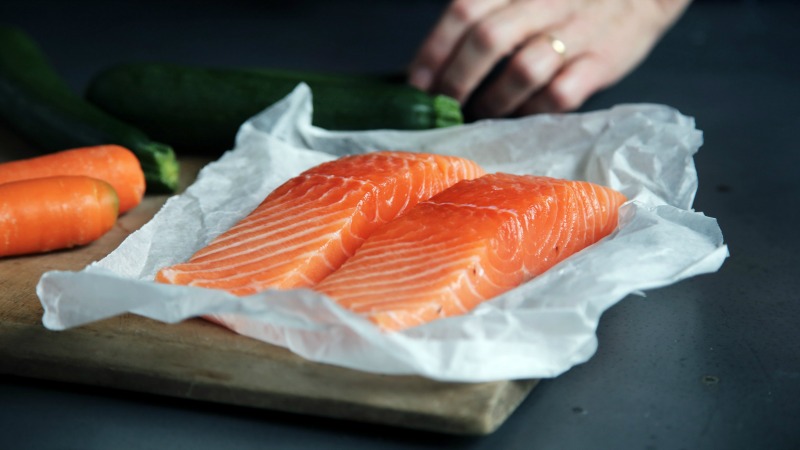 Chlorella -If you've heard of spirulina, then let me introduce you to chlorella. It's a single-celled algae, that has been linked to fighting cancer (source), helps you look more youthful (source), supports your immune system and detoxifies your body. Being able to fight free radicals that our bodies come in contact with daily is a huge benefit of chlorella.
You can get it in powder form and add it to smoothies, or take it in tablet form. We like Onnit's Spirulina & Chlorella supplement (and it's super cheap!).
Red bell peppers & tomatoes – Both are rich in Vitamin C, which is important to collagen production. Vitamin C is our body's first choice when it comes to fighting free radicals that wreak havoc on our skin.
Sunflower seeds – This one surprised me! Sunflower seeds are packed with vitamin E (just 1 oz provides you with 37% of your daily value), which is known to help fight free radicals, which damage collagen in our bodies.
Garlic – Garlic contains sulfur, which is the third most abundant mineral in the human body. Sulfur is necessary for collagen synthesis, which gives skin its structure and strength. (source) A lack of sulfur in our diets can equal more wrinkles. Don't skimp on the garlic!
Eggs – The yolk and eggshell membrane of eggs both contain collagen. Egg whites are also high in the amino acids glycine and proline, which are two of the three amino acids that make up collagen.
Avocado – Avocado contains Vitamin E, which helps prevent collagen breakdown and fight free radicals (like I mentioned above with sunflower seeds). As well as healthy fats that are great for our skin health.
Collagen Supplements
Collagen powder is a supplement that you can add to your smoothies, baked goods or just drink straight to meet your collagen intake. It's like protein powder. Most collagen powders are unflavored, but brands are coming out with chocolate and vanilla flavors now as well. Our favorite is Perfect Keto's Keto Collagen. And when you subscribe you get 15% off your order. Not a bad deal.
Two other well known brands are Vital Proteins and Sports Research. Right now we are loving Perfect Keto. They have chocolate and vanilla flavors, which makes drinking it straight a little more tasty.
Collagen is such an important building block for our bodies. I always think of it this way: We only get one body. We need to take the best care of it that we can. That means proper nutrition and exercise, which includes getting enough collagen in our diets.