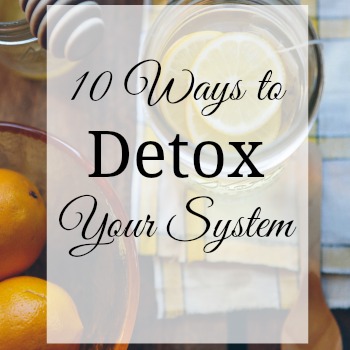 Feeling a bit….off lately? Your body may be in desperate need of a detox. Try one or two, or all 10 of these ways to help reset your body and detox your system.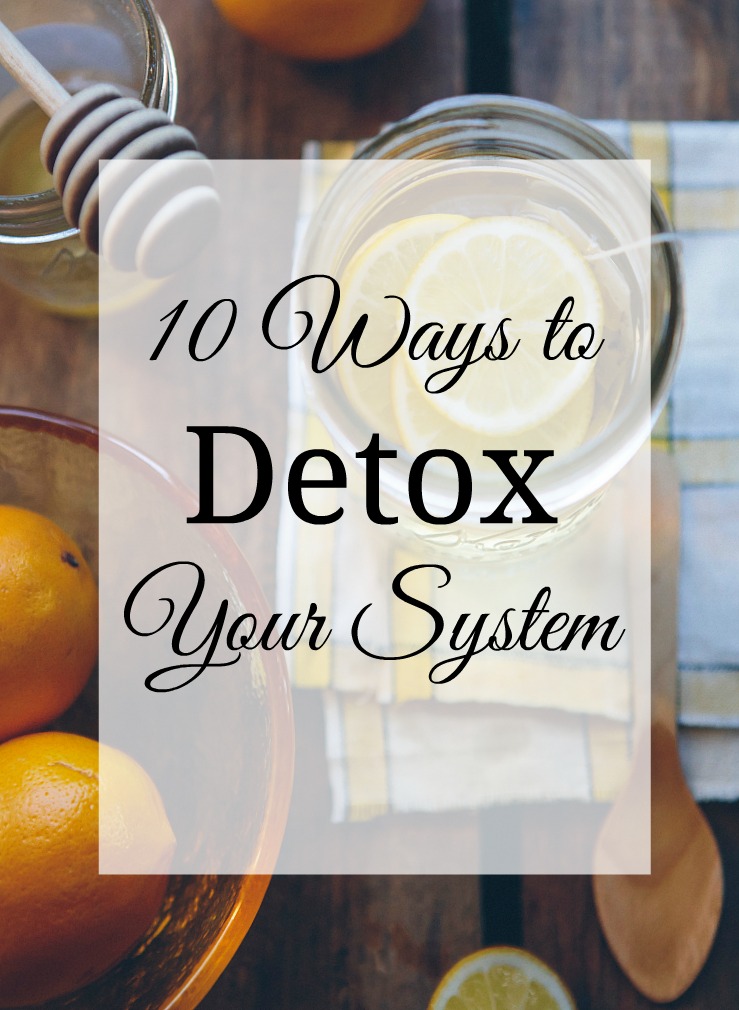 If you're like me, after the holidays you just feel a bit….ick. I know I tend to indulge more during the holidays and sometimes even into the new year. Hello apres ski! Especially after kids, it takes a lot more work for me to get my body back in check. Getting rid of the toxins that build up in my system makes me feel better and more rejuvenated as we head into the spring and summer months; even year round!
There are a number of ways you can cleanse and detox your body to get it back in proper working order.
When you detox your system, you're basically cleansing your vascular system and organs of all the toxins that have built up from lack of proper nutrition, carcinogens, pesticides, chemicals, etc.
Cleansing your system can help improve liver function, increase circulation, make your skin look better, and just help you feel better overall.
Here are 10 ways to detox your system.
Sweat it out
Your body eliminates toxins through perspiration, so get moving and get sweating!
Drink a green smoothie
A green smoothie will provide your body with fiber and promote digestion. Kale or spinach, celery, apple, banana and parsley make a tasty combination. Try drinking a green smoothie a few times a week for a nutrient boost.
Get a deep tissue massage
When you push the pressure points in your muscles, it releases the toxins that tend to build up in those areas. Drink a lot of water afterward to ensure the toxins are flushed out of your system.
Drink more water
Not brain science, but water naturally helps detox your body. Proper water consumption helps keep your organs functioning properly and helps your system flush itself naturally. Think you're drinking enough? Drink more. You get a lot of water from the foods you eat (assuming you're eating whole foods like fruits and veggies), but shoot for at least 84 ounces of water a day.
Drink green tea
Though it may be hard to give up that cup of coffee (or two) at first, green tea will still give you a boost of caffeine, but provides antioxidant benefits as well.
Eat more super foods
Super foods contain the nutrients that our bodies need to function properly. Antioxidants and other nutrients help fight free radicals and can boost your immune system. Look for foods rich in Omega 3s, including tuna, avocado, almonds and walnuts to name a few. And be sure to add antioxidant rich foods to your diet. Blueberries, raspberries, spinach, kale and tomatoes are some great sources of antioxidants.
Body need a reset? Check out these easy ways to detox!
Click To Tweet
Try acupuncture
Our nanny swears by acupuncture. While I haven't tried it myself, for her it helps keep her centered and unblocks areas of her body that may have toxins built up.
Get more sleep
Sleep provides our bodies with the necessary time to recuperate. Lack of sleep contributes to a compromised immune system, weight gain and poor nutrition for starters. It also contributes to the build up of toxins in the brain. Shoot for at least 7 hours a night to allow your body to function properly.
Take a probiotic
Probiotics help eliminate bad bacteria from the body. They help regulate the digestive system, including the intestines, and keep the proper balance of good bacteria. You can find probiotics in food, but finding a good probiotic supplement will ensure that you're getting enough of the good stuff.
Learn to manage your stress
If your body is constantly operating in a state of stress, then you aren't releasing endorphins, which your body needs in order to combat those stressors. This could result in sickness, weight gain and an all around unhealthy life. I know when I'm stressed I tend to get sick much easier than when I'm not. Our bodies are easily susceptible to illness if they are fighting the good fight to get us back to a happier place.
There are so many ways that you can detox your system to lead a healthier life and kick your body into overdrive. Figure out what works for you and incorporate it into your daily or weekly routine. You'll feel better in no time!