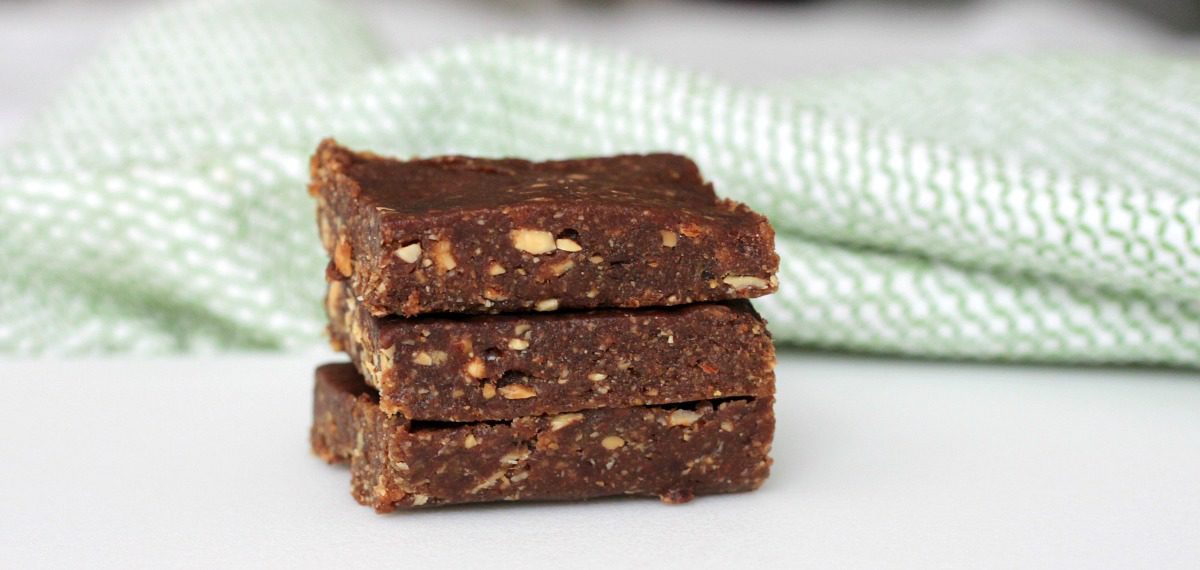 These homemade Larabars are so easy to make and taste exactly like the ones you buy at the store.
Earlier this month I bought a Costco-size package of dates. I wanted to make some pumpkin spice no bake energy bites that were paleo-friendly, so I figured dates would be good to use. (Spoiler: You will not be seeing that recipe on here anytime soon. They did not turn out well).
After making the unsuccessful recipe, I had 3/4 of the package left. And I had no idea what else to make with the dates. So they sat in the pantry.
A few days later, I was at the grocery store and about ready to pick up my go to snack, Larabars, when I looked at the package and remembered they are made with dates! So instead of spending $1.00 per bar, I decided to head home and try my hand at some homemade Larabars.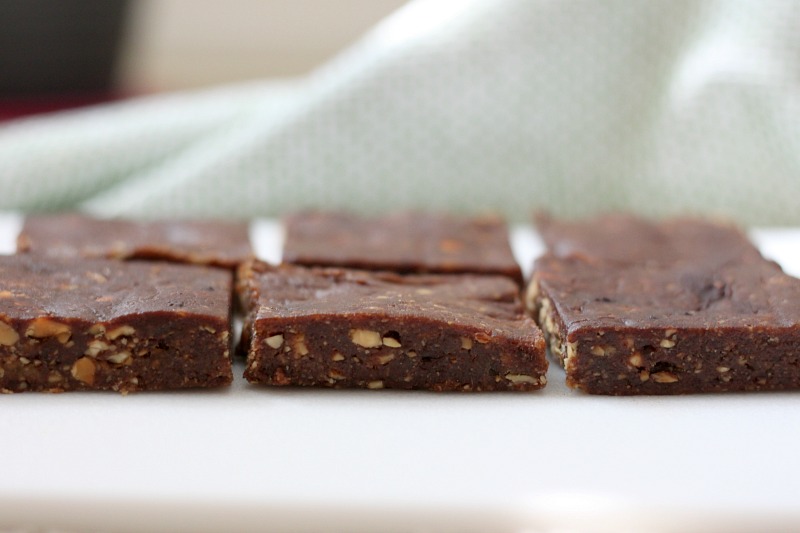 The thing I love about Larabars is that there are few ingredients, they are whole food ingredients (nothing you can't pronounce) and they taste really good!
For these homemade Larabars, I toyed around with the idea of dairy-free dark chocolate chips (I use this brand), or cocoa powder for the chocolate element. I ended up using the chocolate chips, but the cocoa powder would work just as well. And probably require less pulsing of the food processor.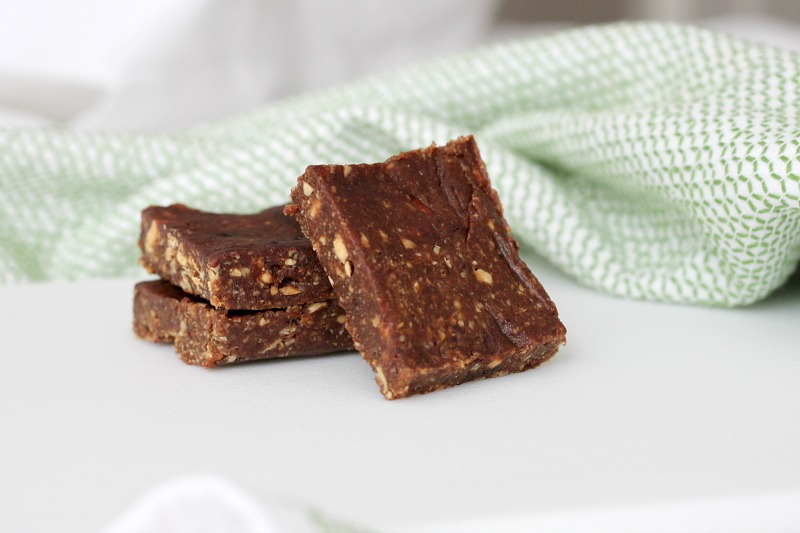 It took me less than 15 minutes start to finish to make these homemade Larabars. It was one of the fastest recipes I've ever made! There are only 4 ingredients in these bars and even Kellen says they taste just like the store-bought bars.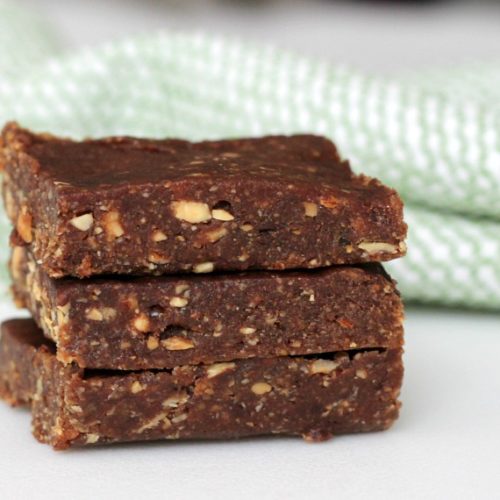 Homemade Larabars
These 4-ingredient homemade Larabars taste exactly like the ones you'd buy at the store. And are quick and easy to make.
Ingredients
4

cups

dates

pitted

2

cups

dry roasted

salted almonds (you can use unsalted as well)

1

cup

dairy-free dark chocolate chips

2

tbsp

almond or cashew butter

you can also use natural peanut butter
Instructions
Line a 9x13 pan with parchment paper, or coat with coconut oil.

In a food processor, pulse almonds until they are finely chopped.

Add dark chocolate chips and pulse until they are roughly chopped.

Pour into bowl and set aside.

Add half the dates to the food processor and process until they are a paste and clump together.

Add 1 tbsp of the nut butter, and half of the almond/chocolate mixture. Pulse until combined. Scraping down the sides as necessary.

Add the remaining dates, nut butter and almond/chocolate mixture. Process until all ingredients are combined, scraping down sides as necessary.

Press mixture evenly into the prepared pan. You can use your hands or a spatula for this.

Refrigerate for at least 1 hour.

Remove bars from fridge to cutting board and cut into desired size bars.

Store in air-tight container for up to a week.
Notes
Make sure you use moist dates. If they are too dry, put them in a bowl of cold water for 5 few minutes.
Don't skip the refrigeration step. This helps bind the ingredients together.
I like larger chunks of nuts and chocolate in my bars, so I pulse less in the food processor. I recommend you pulse to your desired consistency.
Adapted from Foodie with Family
Macros
210 cal
3.4 g protein
10.8 g fat
25.6 g carbs
I think the hardest part of this recipe was getting them flattened in the pan, evenly. And I didn't coat the pan, which made getting them out more difficult, so I recommend you don't skip that step.
I plan to make another batch next week and try a different flavor. I'm thinking cashew cookie or peanut butter chocolate chip. Afterall, peanut butter and chocolate is my favorite combination.
Like it? Pin it!
Enjoy!