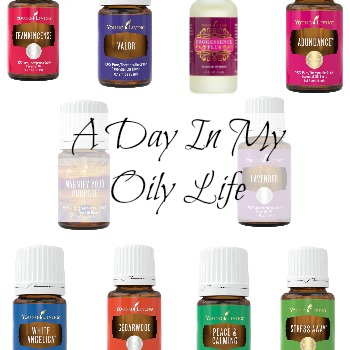 One thing I hear often about essential oils is that people don't know how to incorporate them into their daily lives, but they only use them when needed.
So I thought it would be good to share how I use them in my daily life. It's so much easier than you think to add them to your daily routine. Now that I've used them for so long, it's become second nature for me. I've previously shared some of our favorite uses for essential oils, and obviously some are used more than others; we have our favorites that have become part of our routine.
I'm going to share how I use the oils, and throw in here and there how the hubs and Little A use them as well.
Morning
First thing in the morning I start my diffuser. I'll usually diffuse something uplifting and/or energizing like a citrus oil (lemon, orange or grapefruit) or peppermint to help wake me up.
I'll add a drop of citrus oil to my morning water as well, usually Citrus Fresh (a blend of lemon, orange, tangerine, grapefruit, mandarin and spearmint) because I like the taste of it the most and it helps detox my system.
After I get dressed, I apply 1-2 drops of Progessence Plus, a serum designed specifically for women, to my inner forearms and rub them together. Pro+ keeps my estrogen level and hormones above the wellness line, especially during that time of the month.
I'll apply a drop of White Angelica or Stress Away to my wrists, depending on what we have going on that day. I usually choose Stress Away if we have a lot of running around to do or feel like my nerves may be tried that day. I'll also apply a drop of one of the "feelings" oils, like Abundance or Magnify Your Purpose to my neck or wrists. If I'm going to be doing a lot of work that day it helps put me in the right mindset for achieving my goals.
Before Little A goes to school I apply a diluted roller bottle of Thieves to the bottoms of her feet, as well as a combo I created to help her focus to her spine.
Throughout the day
During the day I'll usually reapply Stress Away a time or two, and I'll take my essential oil based supplements. Both K and I take an EO based supplement called MindWise to support memory and cognitive health. We also take Longevity, which helps our bodies fight off free radicals and helps prevent the damaging effects of the environment. Inner Defense is my favorite EO based supplement. It's like Thieves in pill form and helps keep your immune system healthy. Our entire family also drinks NingXia Red, which is an anti-oxidant drink that promotes total body wellness. It tastes awesome and gives a nice boost of energy.
Around 2:00 I refill the diffuser with new essential oils; usually something like Thieves if we need to support immunity, or Purification to help cleanse the air in our home. Both smell amazing. I also like to diffuse calming oils in the afternoon, like Peace & Calming, Lavender or Valor; all of which have calming properties. This is the time of day I like to experiment with different diffuser combinations as well. In the winter I like to diffuse oils that smell like the holidays and in the spring and summer I diffuse oils that smell fresh, clean and uplifting. You can find a few of my favorite diffuser combinations HERE.
I also keep peppermint with me at all times to support a clear and happy mind. I just apply a drop right on my temples and/or the back of my neck. K also has a Thieves spray and roller with him at work; people just don't know how to stay home when they're sick and this helps boost his immunity and keep their germs at bay.
Evening
I use multiple oils as part of my nighttime routine. After our workout or run in the afternoon/evening, K and I both apply Deep Relief or PanAway to our muscles to keep them happy.

I use Frankincense after I cleanse my skin. I'll apply 1 drop around the corners and underneath my eyes, on my forehead and around the corners of my mouth. If I feel the potential for any breakouts starting, I'll apply a drop of Tea Tree or Purification directly on the spot. We diffuse Cedarwood in our room each evening while we sleep, and I also apply Tranquil to my spine. Sometimes I'll switch it up and do White Angelica in the diffuser as well. That is probably my favorite oil right now. It promotes harmony and feelings of protection (I diffuse it in Little A's room every night).
And that's a typical day in my oily life. We tend to go through some oils pretty quickly, like Thieves, Peppermint and the citrus oils; but others last forever since we don't use them as often. Once you get started using them it really does become so easy to incorporate them into your daily lives. We always think "oils first" when the need arises.
If you use oils in your daily life, which ones? What's one of your favorite essential oils?