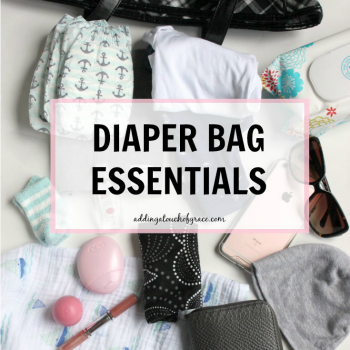 I always love reading about what people carry in their purses. Call me nosy, but it has always fascinated me what people end up with in their bags. I always wonder if maybe there's something I should be carrying that I hadn't thought about. And for some reason one of the questions I get often is what I carry in my diaper bag. Since having a baby requires me to carry around an ungodly number of items, I consolidate everything into one bag; no purse required. Honestly, ain't nobody got time to carry a purse AND a diaper bag, a baby, a car seat, hold a little kid's hand, try to grab your keys and somehow balance your Starbucks cup. No one is that talented. So I shove my entire life into a diaper bag, along with a few necessities for EJ.
Here are my diaper bag essentials.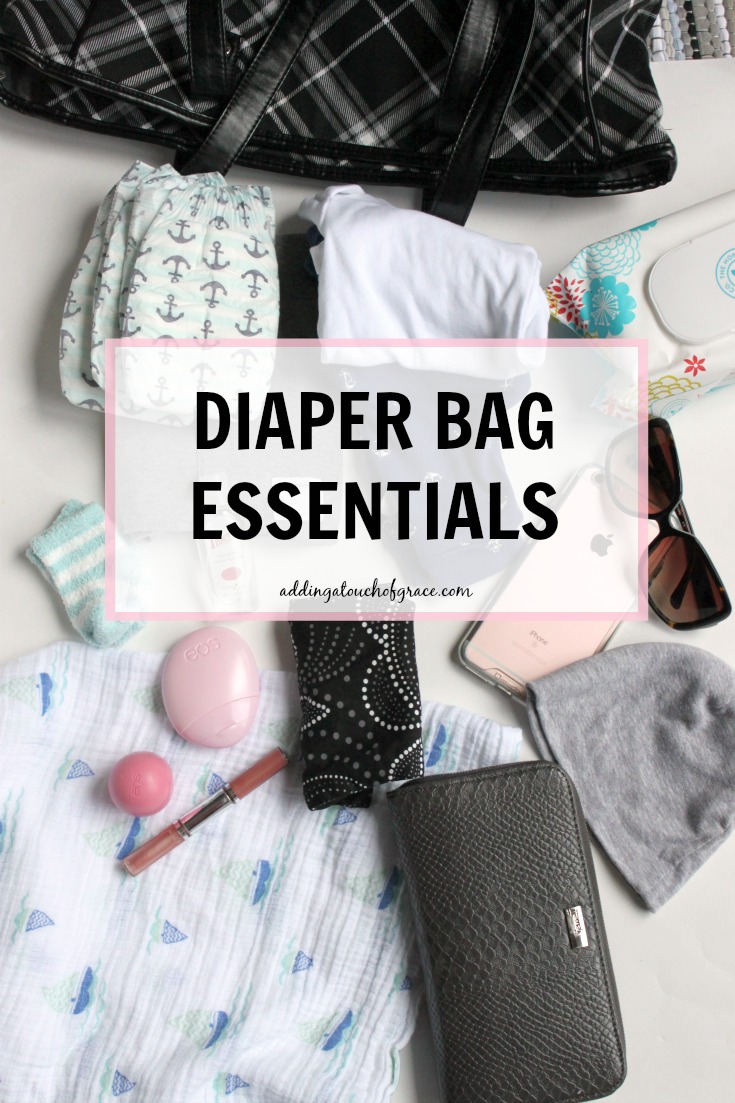 *Affiliate links included.
The bag itself // Right now I'm carrying a Thirty-One bag that I got when A was like 2 or something. It works. We also have a "manly" diaper bag that we got when I was pregnant with Little A so the hubs wouldn't feel insecure about carrying a bright pink bag. But we never use it anymore because the Thirty-One bag just works. I'm sorry, if I'm going to be putting puke covered burp cloths or soiled diapers in a bag, I'm not going to be spending a fortune on it. The bag has lots of pockets for me to stash things in, and I even used it for work for a while when I was in corporate America.
Diapers & Wipes // I mean obviously, right? We are a die hard Honest family. When Little A was born I did a cloth diaper service for the first 9 months or so, but the hubs did not love it. Because she has such sensitive skin, disposable diapers were always too harsh, until we found Honest. They had just come out and you could only get them through their diaper service at the time, and honestly (pun intended) we loved it! They send you 6 packages of diapers and 4 packages of wipes whenever you need them. The diapers are eco-friendly and have no harsh chemicals. Little A never had a diaper rash and EJ still hasn't since we got rid of all the other brand diapers we had from friends and family.
Burp Cloths // I always carry one or two burp cloths with me. EJ is a drooler already and they are good for catching his spittle and cleaning things up. We love the Burt's Bees burp cloths (I have them in grey). They are super soft.
Changing Pad // No one wants to set their baby on one of those nasty changing stations in the restroom. I always lay a blanket down, then his changing pad on top.
Hand Sanitizer // I love my Thieves hand sanitizer! It has no toxic chemicals so there's no chemically smell like some sanitizers have. I carry at least 2 in my bag in case one runs out.
Nursing cover // I'm a breastfeeding mama. I nursed Little A until she was 15 months and I plan to nurse EJ about the same. My cover goes everywhere with me because I'm still modest about it. You'll never see me whip it out unless I'm at home and you're one of my besties.
Lipstick & lip balm // Since I use my diaper bag like a purse, many things that I would normally carry with me in my purse are now carried right along with the diapers and wipes. There are quite a few little spaces in my bag to put things, so I always carry lipstick and a lip balm.
Phone & Sunglasses // No brainers, right? My sunglasses are a beat up pair of Michael Kors that I got from The Rack last year, but they have served me well.
Lotion // All that hand sanitizing can be drying on your skin. I love my EOS lotion because it is small and really slim as well.
Baby hat // The weather can be unpredictable here in Seattle, so I have a beanie as well as a sun hat in the bag for EJ.
Not sure what to pack in your diaper bag? This mom has the scoop on what you need.
Click To Tweet
Extra baby outfit // If you're a mom, you know that having extra clothes in the diaper bag is a must. EJ has already had a few blowouts while we've been out so having the spare outfit is always a good thing. Are those anchor pants not the cutest? They are from Rosie Pope's new line (and super affordable).
Blanket // Like the hat, I always carry a blanket in case the weather gets cold, or we stop somewhere and I need to lay EJ down. I am in love with muslin swaddle blankets, and these aiden + anais ones are my favorite. I love all the different patterns they have!
Plastic grocery bag // I try to make sure I have a few grocery bags in my diaper bag in case we're somewhere and EJ has a blowout. I never want to stick a poopie onesie straight into the bag. Same with a really bad diaper. Give me a plastic bag to shove that thing in so it doesn't contaminate everything else.
Toys // EJ is still pretty young, but I do carry a toy or two in the bag in case I need to entertain him for a bit. He is already obsessed with his Sophie (he sizes her up, then goes in for the kill with her whole head), and he's starting to get into this toy as well.
Wallet // I love my Thirty-One wallet! I know, I'm such a mom. But it's the perfect size, has a zipper and holds everything I need. And it's really cute! I carry just that half the time. I can even fit a long, skinny lip gloss in there!
My diaper bag essentials are just that; essentials. I'm pretty minimalist when it comes to what I need. This isn't my first rodeo and I know what I can and cannot get away with when we are out and about. Sometimes you'll find other random things in there, like a protein bar, a change of clothes for Little A, or sunscreen in the summer. Maybe even a cute pair of baby shoes if we're going somewhere fancy. 🙂
Moms out there, what are some of your must have diaper bag items?