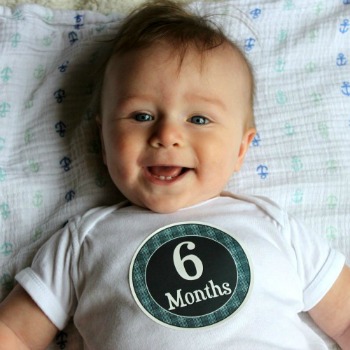 We've hit the half year mark folks! Our boy is 6 months old and my heart just keeps getting bigger every day. This boy. I just can't say enough about what a true blessing he is to our family.
Here's a little 6 month update on EJ.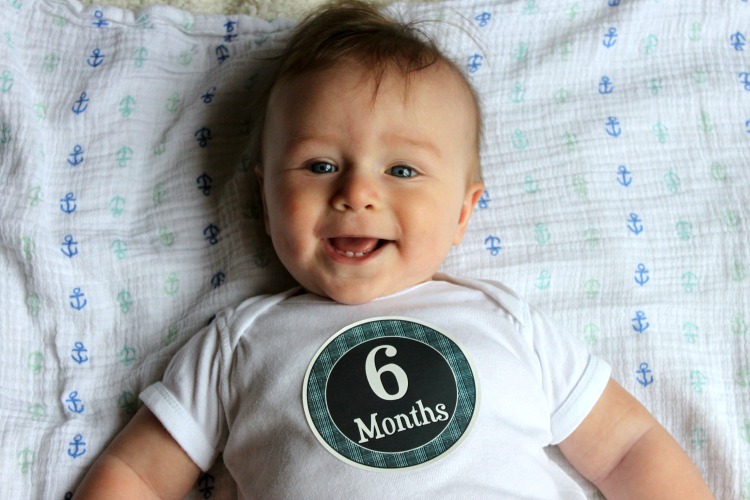 Stats
Weight: 21 pounds, 95th percentile (he gained 4 pounds in 2 months!)
Height: 28 inches, 94th percentile (I don't like how his doctor records their height. I don't think it's accurate because he's definitely outgrown a ton of clothes that used to fit him 2 months ago, so I think he's more like 29 or 29 1/2 inches).
Diaper size: Still in a size 3 diaper
Clothing size: 9 and 12 months, but he's outgrowing the 9 month onesies by the day, so we're mainly in 12 month clothing.
Development
Since his 4 month update:
He has 2 teeth and is cutting 2 more on the top! They will pop through at any moment.
He rolls from front to back now.
He can sit up on his own.
Feeds himself. We started giving him Mums and puffs and he's doing great feeding himself.
He's still obsessed with his toes. Every time he's on the changing table now he instantly reaches for them to put them in his mouth.
He started standing about a month ago, but is standing longer and longer every week.
He's also scooting around on his belly. I turn my head for a second and he's in a completely different spot.
He says "Mama!" Makes this mama's heart so happy! He says it at least a few times a day now.
Eating solids!
I'm sure there are more that I'm missing. I feel like it's been a big few months.
Food
We started him on solids a week or two after he turned 4 months old. I wanted to wait longer, but he was soooo interested in what we were eating. He even lunged at a muffin Kellen was eating one day, so we thought we should give it a shot.
So far he is loving:
Sweet potatoes
Zucchini
Carrots
Avocado
Apples
Pears
Rice cereal
Squash
Strawberry (gave him one in a little mesh pouch and he gobbled it up)
Eggs (his doc gave the go ahead to start meat and eggs on Monday so we gave him some eggs and he loved them!)
He dislikes:
I'll give the peas and green beans another go here soon to see if his tastes have changed at all.
Sleep
He's been a great sleeper most of his life, but lately his sleep has been a bit all over the map. He slept through the night (9 hours) for the first time right before he turned 5 months old. We were doing great but ever since we got back from Chelan (beginning of September) his sleep has been sub par. Sometimes he'll sleep 7 or 8 hours, then other nights he'll sleep 4 or 5 hours and wake up wanting to eat. And even other nights he'll wake up 3 or 4 times and we have to go in and give him his paci for him to fall back to sleep. These last few weeks I've been trying to cut out the night feedings and just rock him, but most of the time he just cries and fusses. I've been sending Kellen in as well, which has helped some, but most of the time he wants mama.
Monday night he did well though, and fell back to sleep without a feeding, so I'm hoping we're on the upswing.
He's down to 2 naps a day. One morning nap and one afternoon nap. His afternoon nap time depends on how long and early his morning nap is, but half the time he ends up sleeping in the car when we go pick up sissy from school. Her school schedule is definitely less than desirable because it interrupts nap time a lot.
Likes & Dislikes
Still loves tummy time and to just be on his stomach in general.
He's really enjoying sitting up to play.
Looooves food!
We're still in the "everything in the mouth" phase.
He loves his jumper and will play in there for a good 30 minutes.
Loves to laugh and be tickled.
Loves to grab hair, especially the tiny ones on the back of your head. And all of sissy's hair. 🙂
Dislikes being put down when he's overly tired.
Sitting in the high chair in the afternoons, unless he's being fed.
It's been an amazing 6 months with our boy. It really has flown by and I can't wait to see what the next 6 months bring.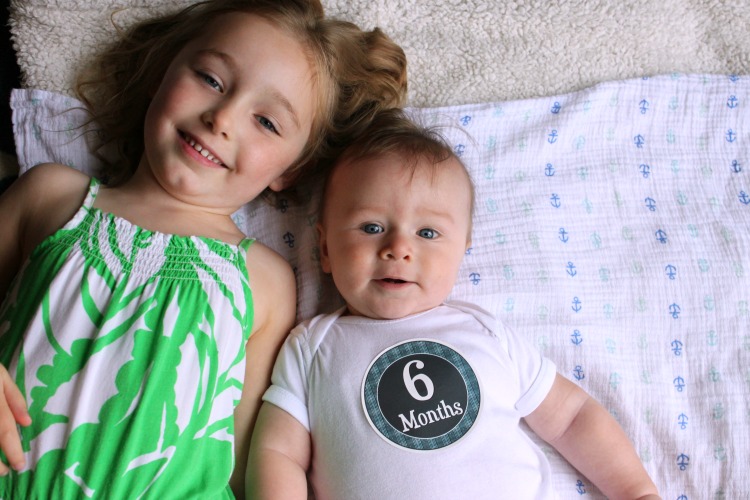 Have a great day love bugs!