An essential oil immune boosting roll on is a must for those fall and winter months when we want to keep our immune systems happy and healthy.
This post contains affiliate links. I may make a small commission on any purchases made through these links, which goes toward running this blog.
When I started really getting into essential oils a few years ago, one of the first things I did was make roller bottles and creams for the fall and winter months. Having kids, I find that supporting our immune systems during this time of year is key to keeping us all happy and healthy and feeling our best.
My favorite way to apply the oils, and one of the easiest ways I've found, is to use a roller bottle. I just roll the essential oils on our spines, the bottoms of our feet, and even our chest. And it works great! With kids, they don't always want to sit still for you to apply a cream or even rub a few different oils on them. With an essential oil immune boosting roll on you have all the oils already mixed, so you can quickly catch them, roll it on, and they can get back to playing.
Here's what you need to make an essential oil immune boosting roll on.
1 10 mL glass or stainless steel roller bottle (I use these bottles. I love color coordinating them and they are reasonably priced.)
15 drops Thieves
10 drops Frankincense
8 drops Lemon
8 drops Peppermint
Fractionated coconut oil (I use this brand), jojoba oil (I like this brand) or other carrier oil.
Directions:
Drop the recommended number of drops of essential oil into the roller bottle.
Fill the rest of the bottle with your carrier oil.
Put the roller filament on top with the lid, gently shake and you're ready to go.
*Note: If you're making this roll on for a child, I'd cut the essential oils in half. Children's skin is more permeable than adults so they absorb the essential oils much more quickly than we do. Using less essential oil and more carrier oil will help ensure their skin is protected. If your child has sensitive skin, I recommend you start with a very small amount of essential oils (say a quarter of what is recommended above) and see how they react, then work your way up to the recommended amount.
Other essential oils that are great for immune support
Oregano
Eucalyptus
Cinnamon
Clove
Orange
Rosemary
Tea tree
Young Living specific oils for immune support
ImmuPower
Thieves
Want to remember this recipe? Pin it!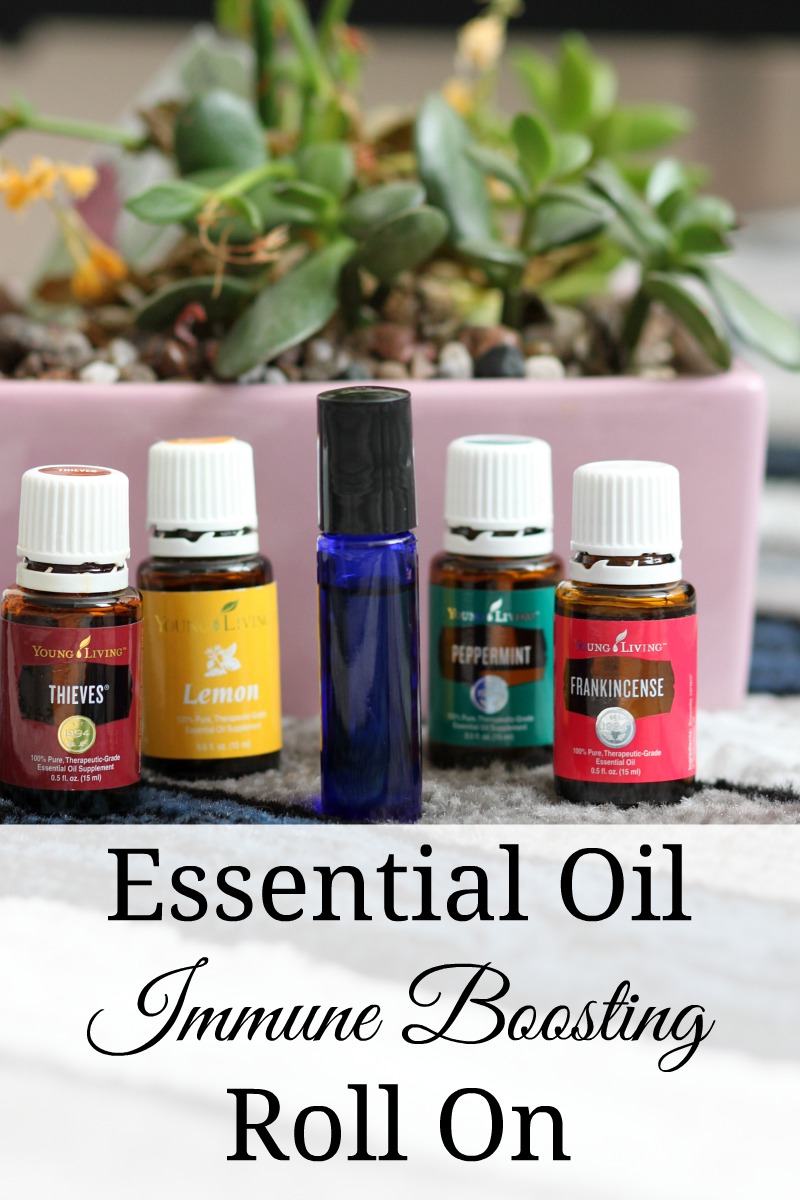 I apply this essential oil immune boosting roll on to my family all the time. There are so many ways to keep our families healthy this time of year and essential oils are a key part.
Want more essential oil recipes? Visit my essential oil page.
Not familiar with essential oils? Learn more about what they are and the benefits HERE.