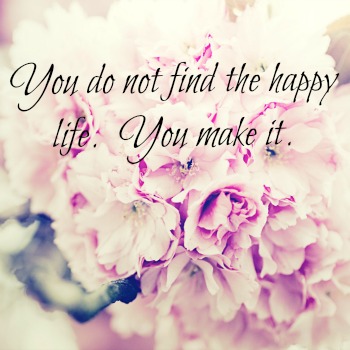 Am I right though?! I always have intentions to do a Friday post but honestly, life with 2 kids is just way too demanding for me right now. Having Little A gone this week gave me some more time to get things done, but man do I miss her so much when she's gone!
Absolutely love this quote by Thomas S. Monson! You're never going to find your happy life by searching for you. You have to be intentional and make it!
Onto today's favorites!
Favorite Book
I know. I'm like the last person to read The Royal We, but I don't read a lot of pleasure books. And I really liked this book! It's witty and I enjoy picturing the characters and their British accents and wondering how it really compares to Will and Kate's life. I'm also about 1/2 way through Eligible by Curtis Sittenfeld and while it took me a while to get into the book, I'm liking the modern take on Pride and Prejudice. I need to reread that now!
Favorite Workouts
I had my 6 week postpartum checkup on Tuesday and my doctor said I could proceed with my normal workouts, but with caution. I had no idea that being 6 weeks postpartum was equivalent to 15-18 weeks pregnant! He said to "try" to take it easy and listen to my body if I start to get too winded. But he knows me so well that he also knows I am now going to work my ass off to get rid of these last 5 pounds and get my abs back. I laid out my plan to get back in shape in this post and being 5 days in I'm already feeling more like my normal self. It feels soooo good to sweat and be out of breath again, haha! I tried out a few BBG workouts this week for the first time and really liked them! I see myself incorporating them into my routine more than I originally expected.
Also, I started a health and fitness Instagram account to hold myself accountable to my eating and workouts, and to find inspiration from others working toward a healthy lifestyle. You can follow me at tifflovesfitness.
Favorite Recipe
I shared this recipe on Tuesday and my protein packed overnight oatmeal is in high rotation these days. I usually make it at least 3 times a week and it keeps me full so much longer than just eggs. I love adding blueberries and dark chocolate chips.
Favorite Song
Here's something you may not know about me (unless you read this post from years ago…which makes me sad since 2 of my favorite artists passed this year): I'm a huge Prince fan. Like HUGE. Music is a massive part of my life and Prince has always occupied a big portion of that. So of course his death was a sad day for me, and all I've been doing is going through my Prince music and listening since. This video has been on replay for me because it shows what a ridiculously amazing guitar player Prince was, and the story behind this collaboration is hilarious. His solo comes in around 3:30 and is off the chain! The man was such a talent. And still, I have no idea where the hell the guitar went. No one knows!
Favorite Moment
This little guy started talking this week! He started making little sounds on Monday and really engages with you and tries so hard to use his voice more and more each day. He really responds to my husband the most and I love seeing them talk to each other. And if you can't tell his sister is obsessed with him. Like literally obsessed it's paralyzing for her and she cannot keep her hands off him most of the time. But I love seeing them watch each other and even though I'm constantly telling Little A to leave EJ alone, don't touch his face, be gentle, no touching his head when he's eating, her love for him makes me happy. Especially since she did not want a brother at first.
We have an adventurous weekend planned so make sure you're following me on Snapchat (atouchofgrace2) to see all the excitement!
Linking up with Amanda and Karli today.
Have a great weekend love bugs!