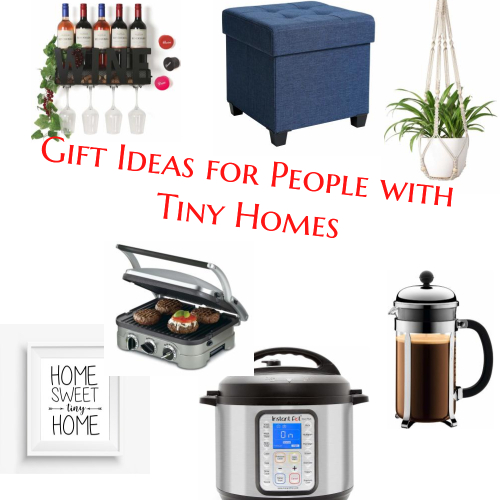 If you're trying to find a gift for someone who lives in a small home, apartment, or RV (like us), look no further than this list of gift ideas for people who live in tiny spaces!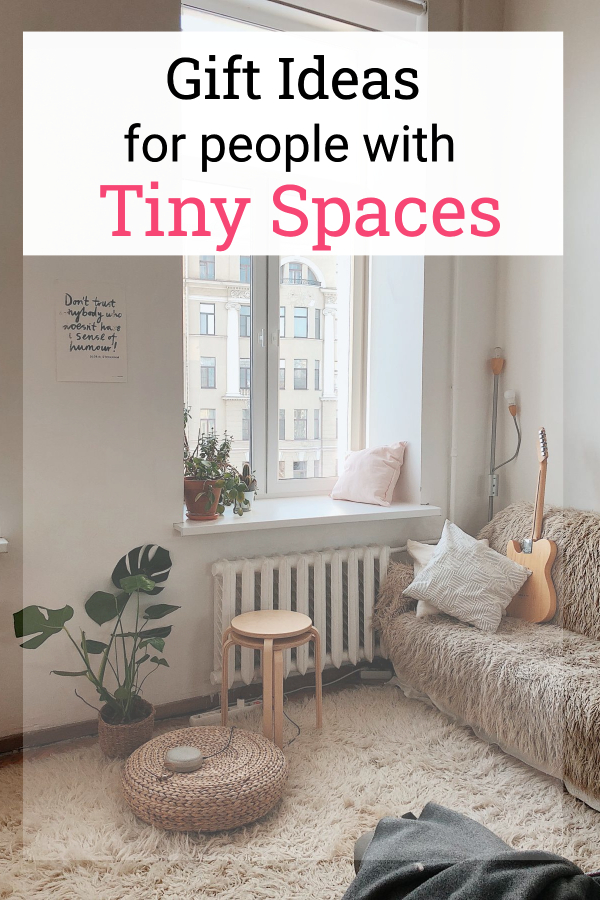 We've been living in 430 square feet for 7 months now. With 4 people. Insane you say? I say genius! This life change has taught us so much about what people really need in life. Just the other day I was sitting in our living room/kitchen, and I felt completely content with the space we had. It was the first time our 5th wheel really felt like home and not just a temporary space.
That said, it has been important for us to really be conscious of the space. We only bring things in that we know we have space for. There is no room for extras when you live in a tiny home.
If you have someone in your life that lives in a small space-an apartment, tiny home, a trailer or motorhome-here are a few gift ideas that they will appreciate and be able to use in their small space.
French Press-We are coffee snobs. We like good wine and good coffee and make no apologies for it. We have had everything from a coffee maker and espresso maker, to a Keurig, but we always come back to a French press. It's small so it takes up very little space in a tiny kitchen. We love our Bodum French press. We've have tried a few different brands over the years but Bodum is by far our favorite. We use it at least twice a day and the mesh filter doesn't lose it's shape or wear like the other brands do.
Coffee Grinder-With a French press comes the need for a coffee grinder. You can't buy pre-ground coffee, as it is typically ground for a coffee pot, which is too fine of a grind for a press. Our Capresso Burr Grinder was my absolute favorite, but jumped to it's death in one of our moves (the roads were so bad it fell off the counter). But if you want to get someone a really nice gift, the Capresso is by far the best burr grinder for it's size on the market (and the quietest). We also have a JavePresse hand grinder, which if you want a workout and to really save space, it's a great idea.
Coffee Subscription-I'm continuing with the coffee theme since I would love to get any one of these things, but a coffee subscription is such a fun gift idea! Stumptown is our absolute favorite coffee, and you can gift your loved one a subscription to their coffee! Hair Bender is one of my favorite blends they make. Pay for a few months for them, then hand it off so they can continue on their own. Who doesn't love freshly roasted coffee delivered to your door?
Instant Pot-When you have a small kitchen, having appliances that multitask is a must. We use our Instant Pot for so many meals. We were able to get rid of our Crock Pots and pressure cooker and replace them with just one Instant Pot.
Workout bands-If you have someone who loves fitness and lives in a tiny space, these mini bands are my absolute favorite tool for getting fit without the need for a gym membership. I take them with me everywhere and they take up no room when I store them at home.
Small bluetooth stereo-Having music in the home is a must for many. A bluetooth speaker makes it so easy to play music throughout the home and doesn't take up a lot of space like a big stereo. We love our Bose speaker and the sound is AWESOME!
Plant hanger-House plants are such a fun gift to give. We just got 2 macrame plant hangers for our trailer and I LOVE them. These ceramic plant hangers are so cute as well, and would be perfect for a little hanging herb garden.
Wall-mounted wine rack-Using wall space is key in tiny spaces. A wall-mounted wine rack makes a great gift and saves tons of space in the process! I love this cute one, and this 18-bottle rack would be perfect for us, haha!
Wall Art- Like I mentioned above, utilizing wall space is key when you live in a small space. Art work or prints are always a cute idea, if you know the person's taste. I love this Tiny Home print found on Etsy.
Storage ottoman- Storage where you can hide things! Blankets, games, movies, toys, books. Storage ottomans save a TON of space. We have 2 we use as benches, and they store all our books and homeschool stuff. Our place would be a disaster if we didn't have them. I love the color and tufted detail on this one.
Panini Press- One of our most used kitchen items is our panini press. I honestly never thought we'd use it as much as we do, but it does everything from sandwiches, to pancakes to bacon and eggs. It folds all the way out to a griddle, hence why we can do pancakes and eggs on it. We have this Cuisinart one and it cleans up nice and easy.
Gift Cards- If you're totally unsure of what to get someone, a gift card is always an option. Amazon, the movies, dinner at a nice restaurant; all are great options.
Any of these items would make a great gift for someone who lives in a tiny house. It's not always easy to shop for these people, but a thoughtful gift would mean so much.