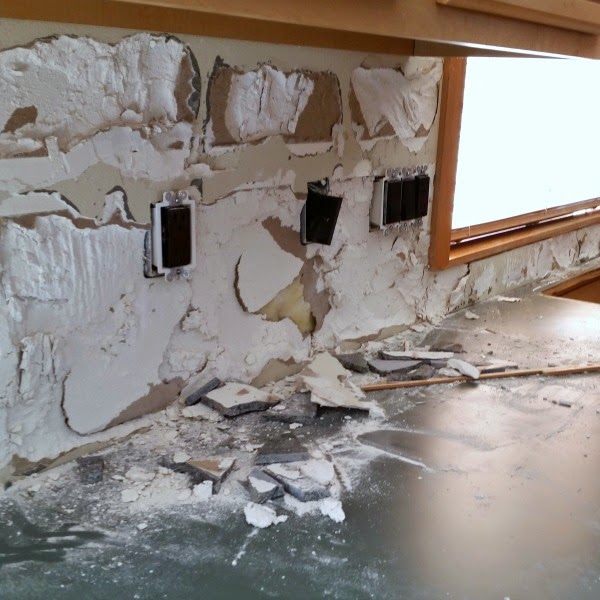 Good Wednesday morning! I'm doing an early #graceeveryday post this week because tomorrow is Little A's 3rd birthday! I can't believe my baby is going to be 3! Holy cow!! So I plan on doing a post about her tomorrow. 🙂 Be sure to come back to read some of the funny things she says.
It has been an exciting week around our house.
Day 275: Demo day! Thursday was the first day of our kitchen remodel and Dave the contractor was here demoing the back splash and counter tops. He took the walls all the way down to the studs, eek!
Day 276: Little A is obsessed with puzzles. And she's really good! So we upped her game and got her a 300 piece puzzle. She had it done that day. The girl is good.
Day 277: The couter tops are in! They went in Saturday and I couldn't be happier. They are gorgeous, but I think I was most excited about the sink. Our old sink was gross, with the base chipping off and stained. The new sink is beautiful. And so deep! Love it!
Day 278: Pumpkin patch day! We went to our first pumpkin patch of many on Sunday. This was our first time to this particular one and it was pretty good. I'm looking forward to heading back to some of our favorites later this month. Love that smile.
Day 279: Monday night football! Go Hawks! Little A had to keep her princess dress and bib on over her Earl Thomas jersey. Priorities I suppose.
Day 280: The back splash is done! Woohoo! It looks like a totally different kitchen and can't wait to share it with you all. Now we'll see if Huebie continues to want new appliances. 🙂
And don't forget to come back tomorrow to celebrate Little A's birthday!