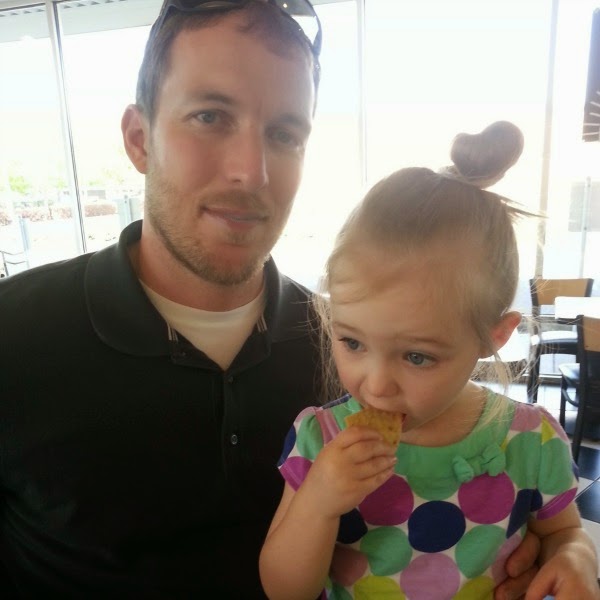 We're officially in May, and today is mine and my hubby's anniversary! We've been married 4 years and although we've had our challenges, it's been an amazing 4 years. He and our daughter are my greatest gifts. Love you babe!
This week's #graceeveryday post is an ode to Little A. Because that is all I got photos of this week. She's been doing so much and cracking us up lately. I am so glad I'm making a point to capture all of these little moments.
Day 121: Met Daddy at Baja Fresh before Little Gym Thursday night. Sweet girl loves her some tortilla chips.
Day 122: This was the day Little A woke up at midnight (after we went to bed at 11:00) with an ear infection. We were up all night. Got some medicine in her before the doctor and she was in good spirits (even with the lack of sleep) at the doctor's office. They have a huge fish tank and she loves to watch the fish.
Day 123: Huebie was volunteering Saturday morning, so sis and I had a doughnut date after Little Gym. She of course asked for the pink frosted one with sprinkles.
Day 124: Probably will go down as Little A's favorite day to date. She got to meet baby Jackson (our friend's 2 month old) and hold him. She was so excited for them to come over and couldn't stop talking about him. She was so sweet with him (and don't anyone say "OOOhhh, looks like she needs a little brother or sister).
Day 125: We finished painting the bonus room! We set up her toy's again and she was able to go in and play for the first time in a while. Happy girl checking it all out.
Day 126: Last week she gave away some of her toys to kids who are less fortunate, and we said she could pick out a new toy. This little fur ball thing is what she chose. Sure, I'll get you the $3 toy instead of the $30 doll, no problem!
Day 127: Grandma and Grandpa are here! Kellen's parents came over yesterday and are watching Little A while Huebie and I are out of town for our anniversary. She loves when they come to visit! And she's really into the cheese face lately.
And here are a few other random photos from the last few weeks.
I hadn't posted any photos from Easter, but I had to share this one. She would open every single egg after she found it. Every one. And she would shake them first to see if there was money. She knows where it's at.
And it was raining the other day on our trip to Costco. So we both had to rain boot up!
Love those little feet!
We are off to Sonoma for our anniversary for the weekend, so I'll be back next week with a trip recap and I'm sure some recommendations for anyone who plans to visit soon (Kelli). 🙂
Have a fabulous weekend!