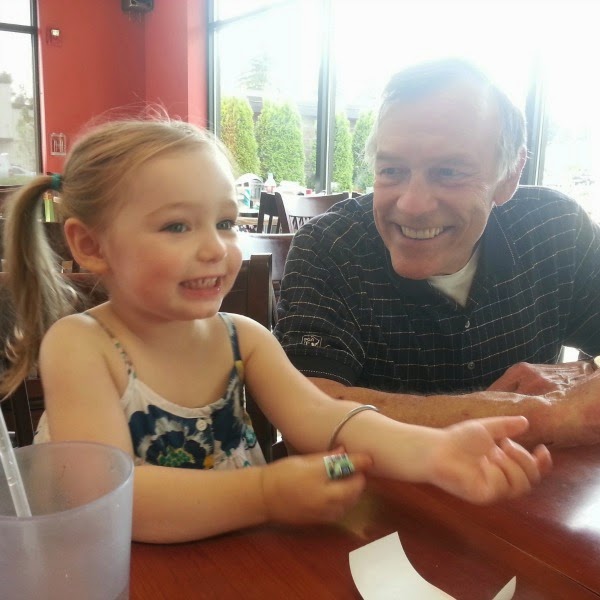 Well folks. We are officially half way through the year. It's been a great year so far, and I look forward to the many adventures we have planned for the remainder of the year.
So far our vacation has been amazing. We've had great weather and the kids have been playing so well, and we've just been able to relax and enjoy our time here.
Here's what's been happening over the last week.
Day 176: Last week when Huebie was out of town my parents came to take Little A and I to dunner. She loves her some grandpa time.
Day 177: Baby M came over for a play date. She is exactly 1 year and 1 day younger than Little A. All was going pretty well until Baby M didn't want to play Barbies with Little A. Then sister lost it and started swinging and crying. It was about nap time so the play date ended there. Lord help me.
Day 178: Daddy's home! Cuddle time with Daddy after work on Friday. She gets so excited to see him after he's been gone on a long trip.
Day 179: First day of vacation! Huebie got home late Thursday night from his business trip and we left for Chelan Saturday morning. We were able to come a day early which was great. A little rushed, but so glad we got the extra time.
Day 180: Her first time playing putt putt! She was more interested in the other kids playing though, than actually hitting the ball.
Day 181: First boat ride of the season! Little A loves her Auntie Kelly and Little P. And boat rides. Who doesn't?
Day 182: Little A and the boys. She's the youngest and the only girl. But she does really well hanging with the boys.
Day 183: We went blueberry picking yesterday morning! Our favorite restaurant in Chelan (well, technically it's in Manson, but most people don't know Manson, only Chelan) is on blueberry fields and they make the best blueberry jam, syrup, muffins…..everything. And they sell blueberries by the pound. But you can also go pick your own, which the kids loved! So much fun. And you can collect 6 pounds of blueberries pretty darn quickly.
More friends come into town today and tomorrow so it's going to be a jam packed weekend of fun. I'm posting lots of vacation photos so be sure to follow me on Instagram (@tiffanyatouchofgrace).
I won't post tomorrow, so I hope everyone has a fabulous Fourth of July! It's my favorite holiday so we will be celebrating in style with wakeboarding, wine, and fireworks. Doesn't get much better than that!