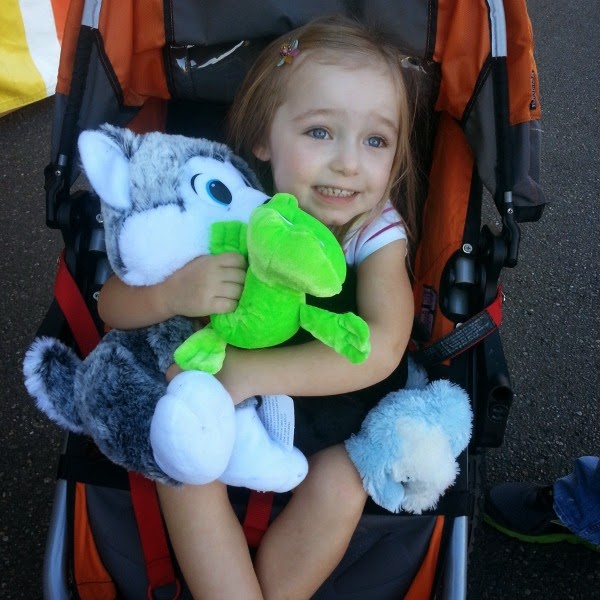 Things have slowed down around here for a few weeks, which I welcome with open arms. I feel like I can breathe a little. More things on the horizon for us that I'll hopefully be sharing with you soon!
Day 254: I missed 🙁 I know, bad blogger! It was a bit of a stressful day with Little A freaking out at swim lessons, so my nerves were shot most of the day.
Day 255: Fair day! Little A was loving all the stuffed animals Huebie won for her. She didn't want to get out of the stroller most of the time; just lovin' on her new toys. We had such a good time this year and it's so fun to see what Little A is able to do year after year as she grows. A lot more rides were available to her this time around!
Day 256: The in-laws were here last weekend so we got a date night! Dim sum and a movie. It was a good night and much needed.
Day 257: Seahawks Sunday! Even though we lost (poor showing on our part) we still had a blast watching. Looking forward to this weekend's home game!
Day 258: Our Young Living team held an essential oils 101 class on Monday evening. It was a great class for newbie EO users and folks interested in learning more. A lot of work goes into the classes; the ladies that put them on do a fabulous job!
Day 259: Giving swim lessons another shot. We thought we'd bribed her good, but she still lost her mind when Huebie tried to get the floats on her and into the pool. And she cried most of the time. But she did it. And we're so proud of her. It's getting better each time. Love that smile. 🙂
Day 260: I spent some time party planning for Little A's birthday last night. I'm way behind but now that the invites are ordered the rest should fall into place.
You can follow me on Instagram HERE.
You can also find me on Facebook HERE.
Have a great Thursday!