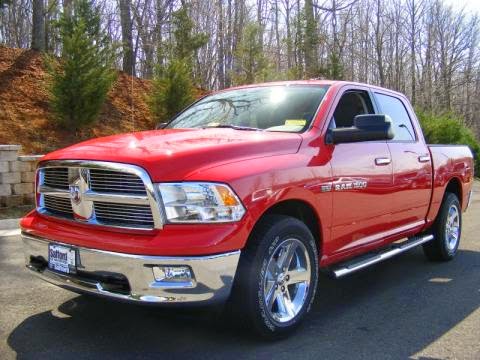 Well, ok technically it wasn't a drug deal. But it sure felt like one!
Here's how we sold our truck in what I assume a drug deal would be like.
In March of 2011, when I was around 16 weeks pregnant with Little A, Huebie decided he wanted to get a truck. We'd talked about getting a truck to haul our bikes (dirt bike and quad) and a trailer. It had been his dream to have a Dodge Ram, so we went looking. And we got a screaming deal (thanks to my fabulous negotiation skills) on a brand new red 2011 Ram Big Horn crew cab. We named it Big Chief.
We had many good times in Big Chief. He took us to the Oregon dunes, a few trips over the mountains to the in-laws house, multiple trips to Chelan and countless drives around the city. He was a good truck.
It was around October of last year that we started talking about selling Big Chief. We were really focusing on paying off our debt and we had a good amount of equity in the truck (can't say that very often), so we'd be able to sell it and pay cash for a used car.
So we put Big Chief up for sale. We had a few interested parties right away, but nothing panned out. The truck had been on Craigslist for a few weeks at this point and we weren't sure if it would sell until a young man called Huebie the day after Christmas saying he and his dad wanted to come look at the truck that afternoon. We had nothing going so we said sure.
When they showed up it was the kid who called (I use kid loosely, he was around 18), his dad, his mom and his little brother. The whole family was there. They checked the truck out and the kid played interpreter to the dad. Finally they said they would buy it.
Great! Awesome! We sold our truck!
They said they had the money, so they came inside to basically pay I guess. This is where it got all drug-dealy.
They pulled out a brief case and set it on our kitchen island. Mind you our nanny was here with Little A (since I was working from home that day) and they were playing in the family room right next to the kitchen. They open the brief case and start pulling out wads and wads of cash. $100s, $50s, $20s, and even some $10 dollar bills were being laid out on kitchen counter top. This was a 2 year old truck so we were selling it for a pretty hefty price tag, so there was a lot of money to be counted. A lot. So I started counting, and counting, and counting. I counted and re-counted a few times on some stacks, until I got to the five figure number we were selling the truck for. At one point I looked up at all the stacks of money covering our kitchen island and thought, "This has got to be the weirdest thing I've ever been a part of."
At this point we had to head to the credit union to pay off the loan and transfer the title to the new owners. It was a lot of cash and I didn't really have anything to put it in, so I stuffed it into 2 shoe boxes. Yep. Shoe boxes. Talk about really feeling like a drug deal was going down at this point.
So we drove to the credit union with them following and walk in with shoe boxes in hand….and there was a line. Imagine waiting in line for a long time with people you don't know, holding 2 shoe boxes full of cash. So weird. We waited for around 10 minutes, and when we finally got to a teller the lady didn't have a bill counter. I kid you not people. No bill counter. So she proceeded to hand count every last dollar. Just as I had done an hour before. And she was slooooow. So slow the buyers were getting a little frustrated. When all was said and done she said we couldn't get the title right then (being the day after Christmas and all), so they gave us something for them to get the registration transferred into their name; which turned into a whole 'nother escapade that I just don't have the energy to type out right now.
So there you have it. The time we sold our truck in what felt like a drug deal. Or what I imagine a drug deal would be like. Laying out the dough. Counting it out (hopefully in $100s only…none of this $10s and $20s nonsense), trading the "goods." A surreal experience for any first timer I'm sure.
Question of the day: Have you ever had a weird experience selling something?
Have a great Tuesday friends!