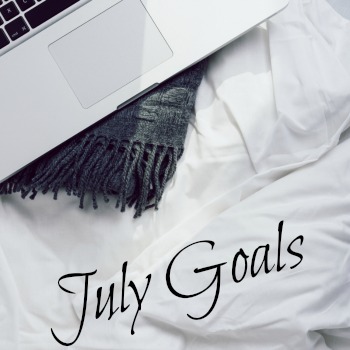 Look at me get two posts up already this week! This never happens, ha! But let's be honest, today's post is more of a fun one. I love goal setting and doing these monthly goals has really helped me set my priorities. Even if I don't accomplish them all, I love having an idea of what I want to accomplish each month.
Let's recap June's goals.
Go to the library each week // Yes! We made it to the library every week except last week, but I'll blame that on company. We've found some good movies at the library as well so Little A is happy. She's also really into dinosaurs lately so all the books we get are now dinosaur books.
Quality time with the hubs // Fail. If you follow me on Snapchat (@atouchofgrace2) you saw that last week we tried to have a date night, but my mom and dad were both super sick, so there was no one to watch the kiddos. Fingers crossed we get an evening out in July!
Work on my Instagram feed // Yes! I've been more deliberate about what I post on my A Touch of Grace Instagram and have gained quite a few followers since starting some new strategies. My tifflovesfitness Instagram is still totally uncurated and will stay that way, so if you need some clean eating and fitness inspiration make sure you're following me over there!
Behind the scenes work on blog // 100% fail. I literally got nothing done behind the scenes here. I didn't even get a newsletter out despite working on it three times! But I'm considering another blogging break this summer so I may do some work during that time.
Trip to zoo or beach // This actually happened! We went to the zoo last week when my in-laws were in town and it was the best time. Little A was exhausted by the end of the day, and so were the adults. We have 2 zoos near us so we'll be heading to the other zoo later in July or early August.
Now onto July's goals!
Set a great summer routine // Now that summer is here, I want to set a weekly routine that's easy for me to stick to. Right now we go to the park Monday, Wednesday and Friday morning, unless we have another play date planned. Tuesday and Thursday morning we go for a 30-45 minute walk/bike ride. I want us outside every day this summer. Little A also has swim one evening a week and dance one evening a week, so the days we don't have evening activities I want us to do family walks, bbq, play games outside. I also want to continue to go to the library each week.
Date night with the hubs // We are going to make a night out happen this month! When Little A was a baby I dreaded leaving her because she was so fussy. EJ is such an easy baby that I really don't worry about leaving him with my parents for a few hours at all. I don't care if we just go for coffee, I want us to get out of the house by ourselves for a few hours one day.
Begin work on home renovation // This is kind of a no-brainer because the work is scheduled to begin mid-month. But K and I are doing the demo, which we started Sunday night. We have a lot of demo to do, so we have our work cut out for us most evenings. I'll be sharing the work as we go on Snapchat so make sure you're following me there to see all that is my hilarious hubby in his element.
Vacation prep // We're going on a fun family vacation this fall and have yet to even book our plane tickets (eek!). I want to get our tickets and hotel booked and at least start my research on destination so I can get our itinerary started. This trip requires a lot of planning.
That's it! I really just want to enjoy our summer, get out on the lake a few times this month and do as much as a family as we can manage. The renovation kind of throws a wrench in things since we'll be homeless for a while, but we'll make the best of it. I'm excited to show you guys the progress as we go and I'll probably do a post at some point as well.
What are some goals you have for July?