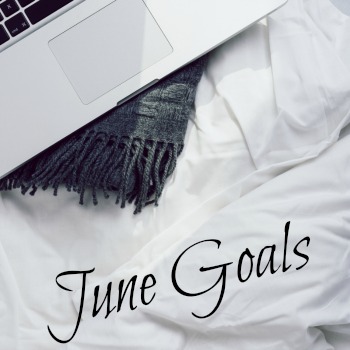 It's June. I feel like I blinked and we're almost half way through the year. Like what the heck? But, I can't complain too much. This year has been amazing so far and I know it's going to get better as we get into the summer and second half of 2016.
May was a good month. I knew it would be. Let's recap my May goals and see how I did, shall we?
Increase my Pinterest presence // Success! My goal for 2016 was to get to 1000 Pinterest followers and I am at 968 followers as of this writing! I did a much better job with pinning in May, but still have some room for improvement. I resigned up for Board Booster, which helps tremendously, and want to get signed up for Tailwind as well. I like both services for different reasons and feel both would be helpful when it comes to gaining my following. If you aren't following me yet, you can find me HERE.
Go to the park 3 days a week // Fail. We started out really good, but then the weather took a nose dive and we didn't go to the park at all the second half of the month. We did get in a lot of bike rides though, so we've done a good job staying active.
Continue family walks // Partial success. I've been doing cardio a few days a week so K and Little A have both been coming with me; either riding bikes or running with me. We haven't done our traditional family walks much, but I think any time spent outdoors as a family is good.
Start my postpartum fitness plan // Yes! I am 22 days in and feeling pretty good about where I'm at. I'm finishing up the Tone It UP girl's book right now and will start doing the BBG workouts 100% of the time next week.
Restart our clean eating plan // Partial success. I did a really good job cutting out most of the processed foods, but we did have a few dinners out and got pizza (for this post) so I wasn't compliant the entire month. But I'm okay with it. We all need days to just let go of the chicken breast and green beans and have a slice if pie or dare I say a scoop of ice cream. I'm sure June will be a bit more strict with the hubby joining me on the clean eating plan, but we have a few cheat meals scheduled in there.
Get myself some new digs // HAHAHA! This one is laughable. I got myself zero things last month. All of the items on my new mommy wish list are still on there, except the bathing suit. I ordered it last weekend and it is on it's way to me now! Fingers crossed it fits because there were only 12 left in the company last weekend so the sweet girl at Nordstrom spent at least an hour calling stores for me to find one in my size. I'm really hoping I can finally get new running shoes this month, and maybe a top or two. My summer nursing friendly wardrobe is very slim so it's really out of necessity.
Okay! Onto my goals for June!
Go to the library each week // Little A loves the library, but we don't go as often as we should. I want us to go each week to pick up some new books for us to read.
Quality time with the hubs // We are terrible at spending quality time together. Whenever we get time to ourselves, we are so tired that we just turn on the TV. I want us to keep the TV off more this month and focus on our relationship.
Work on my Instagram feed // I'm trying to really focus on my aesthetic and although it's a struggle for me at times, it's coming along. I'm hoping all the good sunlight this summer will help.
Behind the scenes work on blog // There are a lot of things I could do to improve this space, and I plan to make a few changes this month to make it a more user friendly experience.
Trip to zoo or beach // Little A has been asking to go to the zoo for a while, so we're going to make it happen this month.
We don't have a lot on our calendar for June and I want to keep it that way so we can really enjoy the great weather we're having in Seattle.
What is one goal you have for June, personal or professional?
I hope everyone has a wonderful weekend!