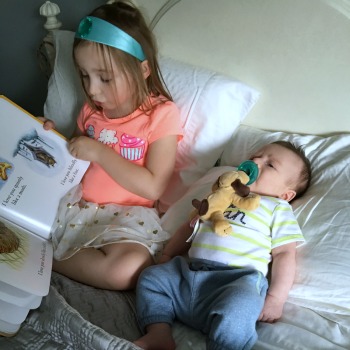 Man what a weekend! This post was supposed to go up yesterday but we had an extremely busy weekend working in the yard and spending time with friends and family. And honestly, it felt good. It's always a bit stressful when I know I need to get some writing done, but I think it's good to disconnect every now and then and just enjoy life and those around us.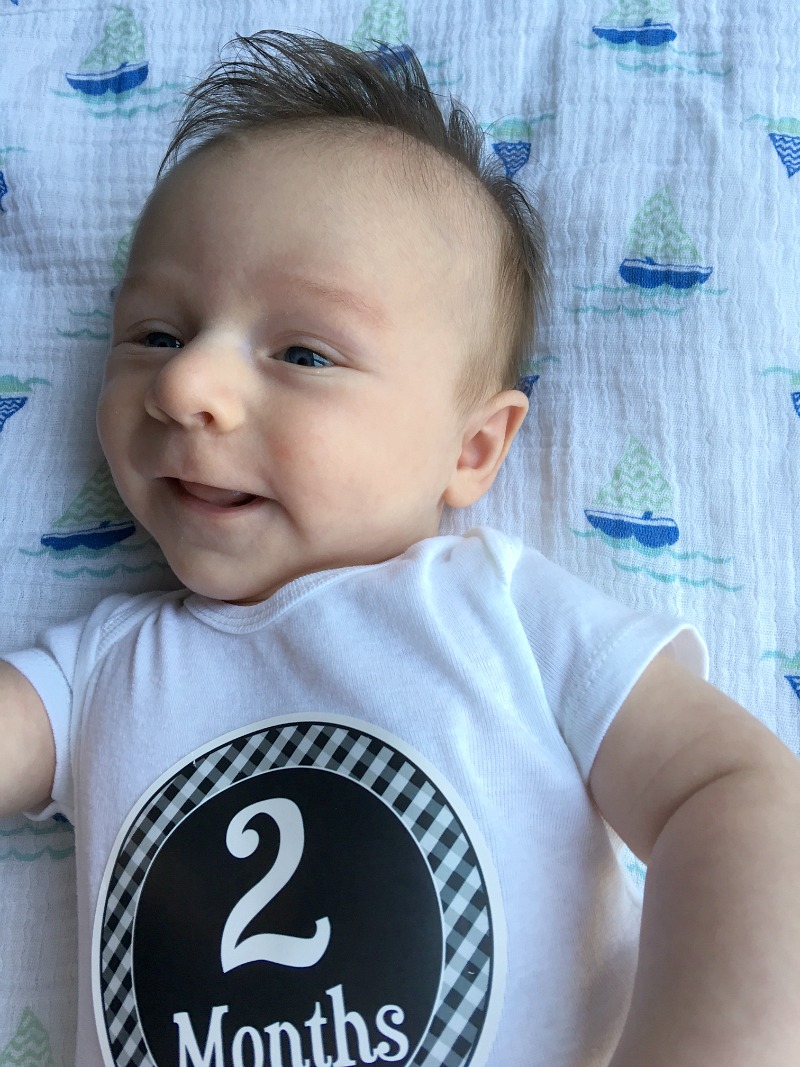 On Monday, EJ turned 2 months old! I mean, I really do feel like we just brought him home a few weeks ago. We have been truly blessed to have the sweetest, happiest little guy. The only times he really gets upset is when he's overly tired or has an upset tummy. Besides that he's a dream baby. I can now understand why people say they want more kids. If we'd have had him first I'd have been singing that tune as well.
He has had a fever for quite some time now. They did a blood and urine sample and found nothing, but he's continuing to run a fever so I'm going to discuss with his doc at his 2 moth appointment tomorrow.
Adjusting to having 2 kids is no joke. I feel like I'm always running around trying to get everyone ready for something. We have activities 3-4 days a week so we're on the go a lot. Luckily, EJ is so go with the flow that we're able to get places easily. And I'm obsessed with being early everywhere, so even though it takes us longer to get going, we're still on time for most everything!
I've struggled a bit with spending enough time with Little A. She's done an amazing job adjusting to life with baby, but I can tell she's missing her one on one time with mama. It breaks my heart when she tells me I'm not spending enough time with her. I'm really hoping this weekend to have some time for just her and me.
The last few weeks we've spent a lot of time shopping for the home renovation we're doing this summer. I am so excited and cannot wait to update our home. We're panning to update all the flooring, trim, doors, kitchen cabinets, bathroom vanities and paint. K is doing the demo and we're hiring most of the work out. I'm really looking forward to the change.
I've been thinking a lot lately about the future of A Touch of Grace. I feel like I need to narrow down what I write about in order to take this space to the next level. I have some ideas that I want to expand upon, but need to have more time to really focus and come up with a plan. Unfortunately time is very limited for me these days so I'm not sure when my ideas will come to fruition, but hopefully later this year.
I'm really looking forward to the summer. This will be the first summer we don't have plans every weekend and I'm excited to just spend time as a family exploring the area and doing some weekend trips. We have a week trip planned for August, and are considering Disneyland in October or November but beyond that we have no plans and it feels amazing.
I started working out 4 weeks ago and it feels so good to be getting back in shape. I've been working out 5-6 days a week, with 2 workouts a day 4 days a week. I'm down to my pre-pregnancy weight, and am hoping to drop a few pounds beyond that as well. K and I started a new eating plan today and I'll be interested to see how we do. It's still clean eating, just a bit more strict on what we can/can't eat. I've been doing a combination of Tone It Up girls workouts and BBG, but after this week I'll be going strictly to BBG. I want to push myself and see how the program is.
If anyone is interested in the BBG I'll do an update half way through the program and at the end so you can see the results I get.
I think that's about it. Honestly, my life is pretty boring. It's busy and insane but I love it and am so happy my little family is now complete.
Tell me something you have planned for this summer. I can't wait to hear!