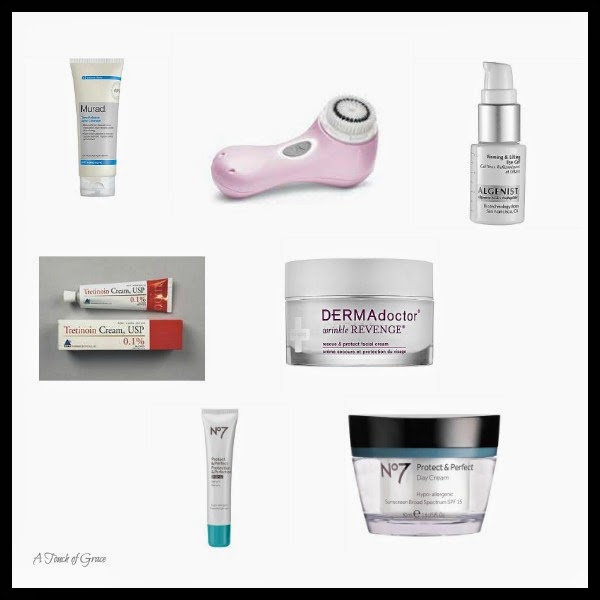 Happy Tuesday! Sorry for the late post today. Things around the Huebner house have been crazy, as usual. We've been busy getting the house ready for an appraisal that is taking place today (fingers crossed it goes well!), so lots of painting, hanging, cleaning, etc. has been happening. But it's really motivated us to get some things done, which always makes me happy!
I loved showing you all what's in my makeup bag, so I though I'd share my skincare routine and what works for me. I have very sensitive skin, and tend to be prone to breakouts every so often (even in my 30s….ugh) so I have looked long and hard for products that will help minimize those breakouts, not dry out my skin, and help those nagging signs of aging that have started (hello wrinkles!).
I used to only use drugstore brand products when I was younger, then as my skin changed, I up'd my game and started only using more expensive, name brand products. Today, I've found a combination of both (as well as prescription) that is working really well for me.
These are the products I currently use:
At night
I'm a shower at night girl. I hate going to bed without a shower. I just like climbing under the sheets feeling fresh and clean. I've told y'all before how much I love my Clairsonic. It has changed my face so much. Even my hubby uses it now (shhh…don't tell him I told you) and loves it. My skin feels smooth and I'm always amazed by how much more dirt and makeup it gets off my face than just using my hands. I use it with my Murad Acne Cleanser. Now, I don't have acne, but I do tend to get little break outs every so often and I hate them. So I use this all the time to keep those inflamed areas at bay. And it works great. I am also a fan of Perricone, and have used THIS face wash for years as well.
After the shower, I use 3 products on my face. I use the Algenist eye gel on the delicate skin around my eyes. I just recently started using this and love it (every woman should use an eye cream). It's helped firm the skin around my eyes and reduces puffiness in the mornings. If you're looking for an eye cream, get one with caffeine.
After I apply my eye gel, I use the Retin-A cream around my eyes, on my forehead and on the lines around my mouth. I went to see my dermatologist about a month ago for an overall skin check and he prescribed this cream for my wrinkles (upon my request for something to help them). It has really helped reduce the wrinkles, and is way cheaper than buying something over the counter.
Once that is absorbed I use the DERMAdoctor wrinkle revenge cream. It helps smooth my skin and brightens it up a bit. You can use this cream day and night, but it's a little thick for me for a day cream, so I only use it at night.
In the morning
I used to only wash my face once a day (at night) but have recently started washing it again in the mornings. After I wash my face, I use the eye gel again around my eyes, then I apply the Boots No7 serum. Here's the thing about this serum: it's really thick for a serum in my opinion. So far I like it ok, but it definitely will not last as long as a typical serum because it's so thick and requires applying more to get full coverage. I may decide to look for a different option once I run out of this one (I really like this option from Murad).
After my serum, I apply my Boots No7 Day Cream. I am so happy with this day cream! I was really skeptical when I purchased the Boots products, but I so far I've been pleasantly surprised. This is one product I'll continue to use.
For the body
At night I also apply lotion to my legs, arms, stomach, etc. I don't have a go to lotion, but I like Jergens products and in the winter I love Bath and Body Works Vanilla Bean Noel lotion. It smells soooo good.
If you have any favorite lotions I'd love to hear about them!
I am about as white as the come, so in the summer I like my legs to have a bit of color.
I use Jergens Natural Glow lotion quite often in the summer, but I've thought about trying out some of the towelettes I've seen folks talk about. These Loreal ones look like they may work well. Anyone used these (or any other towelettes) before?
And that's my skin care routine. Do you have any go to products that you just can't live without?