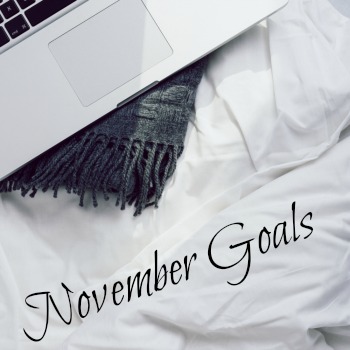 Yay for November! Halloween is over, now onto Thanksgiving and Christmas and all things merry and bright! October was basically like a week long for us; or at least that's how it felt. We had so much going on that I blinked and it was Halloween. I even forgot to take EJ's 7 month photos on the 30th, and I never forget his monthly photos. Having a sick little girl in the house hasn't helped either. Poor thing ended up with pink eye, an ear infection and a respiratory infection all at the same time! Luckily she's such a trooper and is on the mend. But not without a lot of doctor visits, drugs and movie watching.
Let's see how I did on my October goals.
Have a great time in Disneyland // Success! We had a blast in Disneyland. We were able to do almost everything we wanted, which I did not think would be possible. We could have used one more day in the park to go through the Main Street shops and ride a few more rides, but 3 days was a good amount of time for the kids.
Celebrate Little A's birthday // Success! I shared her mermaid 5th birthday party on Monday. I think she had a great birthday month.
Schedule out the rest of our year // Partial success. I know what our schedule is like the rest of the year and it's INSANE. But I think we have each week that Kellen is home figured out. Granted that's only like 4 weeks, but we are going to make the best of those 4 weeks.
De-clutter // Partial success. We got rid of some larger items from the garage, and we were able not to bring a few things back into the playroom after the new carpet was installed, but I still have some more work to do to really downsize to where I want to be.
Apply to work with 2 new influencer networks // Success! I applied to 2 and was accepted to both!
Enjoy time with the family // I'd say this was a success. Even though it was a crazy busy month, we had some good family time as well.
Onto my November goals!
Plan Thanksgiving menu // We have hosted Thanksgiving almost every year since A was born. I love to entertain, and having both sides of the family at our house just makes things so much easier with the kids. We're hosting again this year, so I need to plan out our menu. We usually do the same thing each year, but I like to mix in at least one side that's a little different.
Do at least 1 sponsored post // I don't think I did a single sponsored post in October. Nothing that came my way felt right. I know right now I have at least 1 coming up, so I know I'll make this goal no matter what, haha!
Get 50% of my Christmas shopping done // I say it every year, and every year I fail. But this year I have to do it, or there will be no Christmas with how busy our December is. I am going to get a large chunk of Christmas shopping done in November! Kellen is gone for 2 or 3 weeks this month (I can't even keep track anymore), so that's the perfect opportunity for me to use my evenings to plan out gifts for our loved ones and do a little online shopping.
De-clutter // Since I didn't fully complete this goal in October, I'm setting it again for November. I want to get rid of a lot of A's old art supplies and knick knacks. The girl collects little trinkets like they are the last items on earth, and I am hell bent to get rid of 95% of them. Our garage also needs a good going through, so one night I'm going to try to tackle the few items out there that belong to the family unit.
Girl time // I have had 1 hour away from EJ for girl time since he was born. 1 hour! And while I know my girlfriends don't mind me bringing him, it would be nice to have some time where I don't have to bounce a baby on my lap, or keep him entertained in a high chair. I would just like to have a few hours with at least one of my friends, before the end of the year. I will need some help with this (I'm talking to you Kellen and Mom), but I will make it happen.
I think that's good for November. I know a few of those goals will take a good amount of time, so I'm going for quality over quantity this month.
What is one goal you have for November?