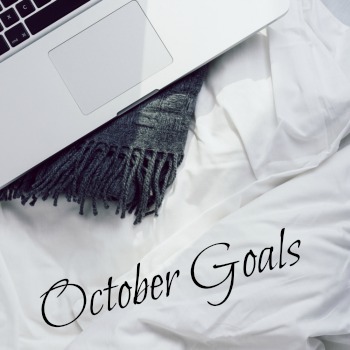 Like holy heck today is September 30th?! Not only did my favorite month of the year fly by, but so has EJ's life because today he is 6 months old! If I could stop today in it's tracks I would. But alas the days will continue to pass and I'll find myself on October 31st saying this same thing, I'm sure.
I am really enjoying setting monthly goals for myself. It's keeping me accountable to getting things done (for the most part), and it's nice to look back and see what I've accomplished throughout the month. Because Lord knows sometimes we get so busy that we forget how much we've actually gotten done.
Here's a recap of September's goals.
Finish our remodel // Fail. Really this isn't our fault. The damn bankruptcy of Hanjin stranded our doors on a cargo ship so our contractor had to get the doors from a different distributor, which delayed most everything. So far the new hardwood floors are in, the windows are trimmed out and a bit of baseboards are installed.
I'm really hoping that a lot will happen next week because we're throwing a party next weekend and a toilet is kind of a necessity in our only downstairs bathroom.
Plan A's birthday party // Success! The party is next weekend and while I'm not quite ready, it's planned. We're going with her requested mermaid theme, so stay tuned for a party recap post in the next few weeks.
Get into a good fall routine // We have our routine down, but I do not have any more time for myself. I feel like while Little A is at school EJ needs a lot of attention. We haven't figured out a consistent nap schedule for him with this new schedule yet either. His second nap usually happens right when we need to pick A up from school, so he ends up napping in the car for like 20 minutes. Hoping to get his nap time figured out soon.
Update old posts // I updated 1 or 2 posts in September! I have new photos for another one to update next week.
Try 2 new recipes // Failure. Instead of trying 2 new recipes I made 2 really old recipes. I would like to say I'll try again in October but our month is so insane I know it won't happen. But I'm okay breaking out some oldies but goodies.
Now for the whirlwind month that will be October.
Have a great time in Disneyland // We are going to Disneyland! I'm so excited for this trip. I pestered the hubs about Disney for a good 6 months and he finally said yes! He's never been to Disneyland either so I'm really hoping he'll enjoy it as well.
Celebrate Little A's birthday // I cannot believe my girl is going to be 5 years old! Her birthday is next weekend so we'll celebrate with her mermaid party on Saturday, then wherever she wants to go for lunch or dinner on Sunday.
Schedule out the rest of our year // The hubs has a lot of travel coming up for the remainder of the year so our schedule is going to be a bit crazy. I want to make sure we have a good plan for when he's home so that things don't fall through the cracks.
De-clutter // I want to do another round of de-cluttering. Even though we simplified our lives earlier this year and got rid of half our stuff, I still feel like there is more we could get rid of. I've put a few things up for sale already, and want to take a good hard look at what we need and don't need.
Apply to work with 2 new influencer networks // This has been on my list for a while. I have 2 specific networks I want to work with and plan on applying this month.
Enjoy time with the family // We have a lot going on in October, but most of it is fun. I want to make sure I'm taking a step back when necessary and really enjoying the time with my family.
Between Disneyland, Little A's birthday and Halloween, October is going to be a full month for us. There are some BIG changes happening in the Huebner household soon, and I can't wait to eventually share more! It's going to be a wild ride the rest of the year.It
What is one goal you have for October?