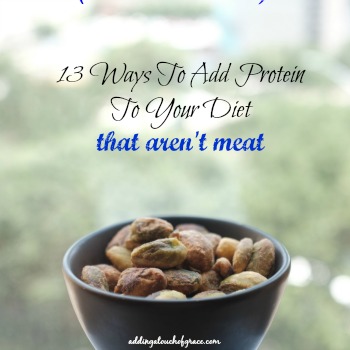 Not a big meat eater? Here are a few meatless ideas to add protein to your diet.
I'm sure I'm not alone when I say that sometimes I get tired of meat. I just get burned out on chicken and turkey. I can only take so many chicken breasts with light seasoning before I start gagging on every bite. So I've learned a few tasty ways for getting protein into my diet that aren't meat. This has been especially important for the hubs who is a meat-a-holic. Having a vegetarian day sounded so foreign to him at first. You must have meat at every dinner; you need to get your protein in! But once I showed him there are more ways to still get your daily intake of protein that don't require me eating another chicken breast, he was all for it.
Here are a few ways to add protein to your diet.
Quinoa // I've shared about quinoa being a superfood previously, and it's an awesome way to add protein into your diet. It can work as a replacement for rice and is rich protein, fiber and several B vitamins. The protein in quinoa is high in amino acids as well. There are 4.4 grams of protein per 3.5 oz serving of quinoa, and 120 calories.
Peas // I feel like peas are the overlooked vegetable. Not only are they high in protein (8 grams per 118 calorie cup) but they are also high in vitamin C, with 1 cup accounting for 96% of your daily value. Peas are also a good source of vitamin A, iron and magnesium.
Beans // Beans scare people. I think because they associate beans with gas and bloating. But if you're eating the right kind of beans you have nothing to worry about. Beans are chock full of protein and fiber to keep your digestive system healthy. 1 cup of black beans contains over 15 grams of protein, 15 grams of fiber and is a great source of calcium and magnesium, among other vitamins and minerals.
Protein powder // Here's the deal with protein powder. You need to read the labels! Some protein powders are full of additives and sugar and other bad for you ingredients that are doing more harm than they are good to your body. So I encourage you to always read the labels before you decide on a brand that works for you. There are also many varieties of protein powder, from whey and casein proteins (derived from milk) to soy, rice and egg proteins (I actually love egg protein). Before you decide on a protein powder, I recommend you check out ConsumerLab.com's review of some of the most popular protein powders. They even tested for heavy metals! I'd also add to do your own research as well. Some of the brands they tested on ConsumerLab.com may not be of interest to you. In that case you should do your own research to make sure what you're using is of the highest quality and safe.
Cottage Cheese // I have a love/hate relationship with cottage cheese. Does anyone else have that with food? I go through phases where I could eat it all the time, then a week later it just sounds terrible to me. But it provides your body with a good source of protein (25 grams per cup) and calcium (18% of daily value). It's higher in calories than other protein sources (222 calories per cup) but 1 cup would make a great afternoon snack or addition to your breakfast.
Nuts & Nut butters // Nuts are one of the easiest ways to incorporate non-meat protein into your diet. All nuts contain omega-3s, which are great for your heart health, as well as folate, which is essential for brain development. But you must be careful; some nuts are high in fat and calories, especially if they are roasted in oil and heavily salted. Try for almonds, cashews and pistachios, which contain the lowest amount of calories but are still high in protein. We love the unsalted mixed nuts at Costco.
Nut butters, like almond, cashew and natural peanut butter are great and can help fight bad cholesterol. They add a great protein punch to baked goods and smoothies (we love to mix a banana, chocolate protein powder, almond milk and a spoon full of natural peanut butter for our smoothies).
Chia seed // Chia seeds are a great addition to smoothies, baked goods, yogurt and even cottage cheese with fruit. They have 4.7 grams of protein, 11 grams of fiber and 138 calories per ounce. They're also a great source of magnesium and are high in omega-3s and amino acids. I love to add them to my no bake energy bites and homemade protein bars as a substitute for flax seed.
Edamame // I didn't discover my love of edamame until 3 or 4 years ago, but it is so darn tasty! Technically it's a bean, but it's not your typical black or pinto bean, so I wanted to share it separately. 1 cup of edamame has 11 grams of protein, 9 grams of fiber and only 120 calories. It's also a great source of vitamins A and C, and iron.
Lentils // Rarely considered when it comes to protein, lentils are surprising little protein powerhouses. They are high in folate, fiber, iron and of course protein, among other vitamins and minerals. 1 cup of cooked lentils provides over 17 grams of protein. Not too shabby!
Hemp Hearts // The hubs and I just discovered hemp hearts within the last year or so. They are basically just raw, shelled hemp seeds. They have a bit of a nutty flavor and are easy to add to smoothies and yogurt. I've also added them to baked goods for some additional nutrition. 30 grams of hemp hearts contain 10 grams of protein.
Eggs // Oh eggs. I love eggs. I rarely get tired of eating eggs. 1 egg contains around 72 calories and 6 grams of protein. They raise HDL cholesterol (the good kind of cholesterol) and contain an array of vitamins and minerals that our bodies need. They also contain choline (used to build cell membranes), which most of us don't get enough of, let alone know about. Hard boiled eggs make the perfect mid-morning snack.
Tofu // Ever thought of tofu as a way to add protein to your diet? Neither had I really. But tofu is actually pretty good for you. A 100 gram serving of tofu contains only 70 calories and over 8 grams of protein. Not too bad!
Greek yogurt // I'll be honest. I hated Greek yogurt when it first became popular. There was something about the texture that bothered me and dried my mouth out. But after taste testing different brands I found a few that work for me. And now I love it. Both regular and Greek yogurt can be included as part of a healthy diet, but Greek yogurt packs a much higher protein punch. Many 6-8 oz containers of Greek yogurt contain upwards of 12-15 grams of protein and fewer than 160 calories. Most Greek yogurt also contains live active cultures that are great for gut health.
Make sure when you're looking for Greek yogurt that you keep an eye on the fat content. There are some varieties of full fat Greek yogurts that can contain around 16 grams of saturated fat! That is no good.
[Tweet "13 ways to add protein to your diet. And none of them are meat!"]
Phew! That is quite a list! Eggs, Greek yogurt and beans are definitely my favorite ways to incorporate non-meat protein into my diet. I love finding new ways to incorporate these protein options into different recipes.
What are some of your favorite non-meat proteins?