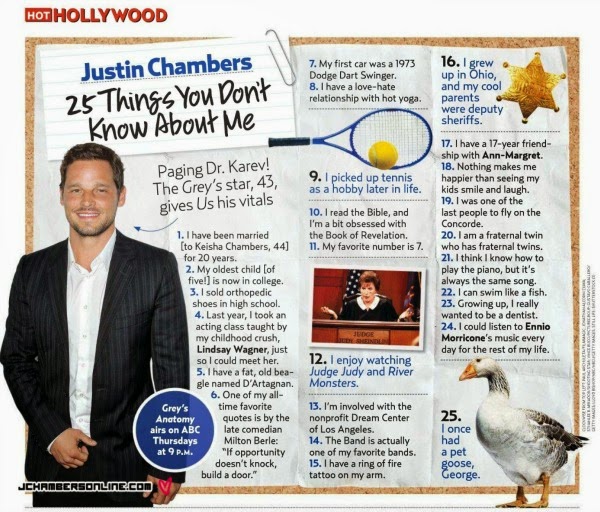 Happy Monday! How was your weekend? Ours was super full with an out of town wedding on Saturday and finishing the fence yesterday. Fortunately, it's done, which is a huge weight off our shoulders. So glad we can check that off our list!
I know on Friday I eluded to a giveaway today, but after the busy weekend we had I didn't get a chance to finish it up. My apologies. But it will be ready tomorrow, so remember to come back to see what we're giving away!
You know those "25 Things You Don't Know About Me" pieces in Us Weekly? Well I thought it would be fun to do one here on the blog. So here you go!
25 things you don't know about me.
1. I have never lived more than 120 miles from my hometown.
2. I bite my nails. (Eek! I hate that about myself. Such a hard habit to break. But I'm working on it.)
3. I was a cheerleader in high school.
4. I got into my first car accident 2 hours after getting my first car. In the high school parking lot (luckily it wasn't my fault).
5. I gave birth to Little A the day after we moved into our current home.
6. I was in the best shape of my life 6 months after having Little A. I hope to get back there some day.
7. My career goal when I was a kid was to be the CEO of a Fortune 500 company.
8. I played the flute in school, but wish I'd stuck with piano.
9. I am a terrible singer, but I know the words to thousands of songs and sing along to all of them.
10. Even though I went to college in state, my goal was to go out of state (I actually wanted to get as far away as possible). Cost was the deciding factor.
11. I had never been on a hike until I met my husband.
12. I used to snowboard, but my hubby is a skier so I converted and couldn't be happier. It's so much easier!
13. I really want to get a tattoo but I'm so afraid of #1 the pain, #2 that I'll regret it, that I keep postponing it.
14. I always wanted to visit Neuschwanstein Castle and never thought I would get the opportunity. Then my hubby proposed to me there. 🙂
15. My first job was as a hostess at a Mexican restaurant.
16. My favorite movie for the longest time was Wild Hearts Can't Be Broken. Now it's Shawshank Redemption, followed closely by about 15 other movies.
17. I cannot watch movies where animals (especially horses) get hurt or killed. Yes, I know it's not real, but I still can't watch. And I get angry.
18. I share a birthday with Pink, Brooke Burke Charvet, David Arquette, and JTT (that's Jonathan Taylor Thomas for those of you that aren't my age) and the late great Patsy Cline.
19. I'm not afraid to try new foods. Except bugs or anything that's still living.
20. I had 2 horses when I was young. One died, then the other one tried to buck me off in a show so my parents sold him.
21. My favorite city in the US is New York City.
22. My favorite country is Italy.
23. I could spend almost every evening just sitting with my hubby on the couch watching a good show or movie and be totally content.
24. I can't stand when people try to brag about themselves by showing you how much they know, especially in the workplace (you know the kind of people I'm talking about).
25. I'm still friends with girls I've known since preschool. That's a heck of a long time.
Your turn! Pick 3 numbers above and tell me something about yourself I may not know!