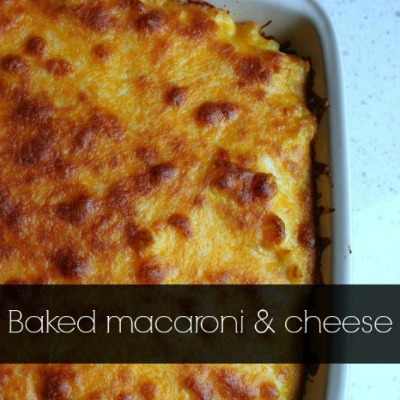 The Tuesday before Thanksgiving I decided I wanted to add something to the menu. I just wasn't sure what. Then it hit me. Duh! Mac and cheese! We doesn't like macaroni and cheese? No one, that's who. 😉
Mac & cheese is the epitome of comfort food and was the perfect addition to our Thanksgiving menu. I will definitely be making this one again throughout the year.
This was my first baked macaroni and cheese and I was so happy with how it turned out. So was the rest of the family. I wish I had gotten photos of everyone going back for seconds. And it reheated so well the next day!
There are no fancy ingredients and it's a quick one to put together.
*sorry for the weird spaces. I'm told WordPress does this for some reason and I can't figure out how to delete the spaces in the recipe.
Baked macaroni & cheese
Ingredients:
– 1 lb macaroni pasta
– 4 tbsp unsalted butter
– 4 tbsp all-purpose flour
– 1 tbsp salt + 1 tsp
– 1 tsp ground pepper
– 1/4 tsp garlic powder
– 1 1/2 cups heavy cream
– 1 cup milk (I used 1% but 2% would be fine as well)
– 4 cups sharp cheddar, shredded
– 2 cups colby jack cheese, shredded
Directions:
– Preheat oven to 400 degrees. Grease 9×9 baking dish.
– Cook macaroni in large pot until noodles are al dente (pasta will continue to cook in the oven). Add in 1 tbsp salt. Drain and set aside.
– In medium saucepan, melt butter over medium-high heat. Once melted, sprinkle in flour and stir to combine.
– Mix in 1 tsp salt, pepper and garlic powder.
– Slowly add in cream, mixing constantly to combine. If there are still little bits of flour in the mixture that is fine.
– Add milk and stir to incorporate.
– Bring mixture to almost a boil, reduce heat and cook about 5 minutes, or until mixture is thick.
– On low heat, add 3 cups of cheddar and 1 cup of colby jack cheese and mix until cheese is melted.
– In a large mixing bowl, add the pasta then the cheese sauce and mix until fully combined.
– Add mixture to greased baking dish.
-Sprinkle remaining cheese on top of macaroni.
– Bake 20 minutes, until cheese is melted and golden in color.
It really doesn't get much better than that.
Enjoy!