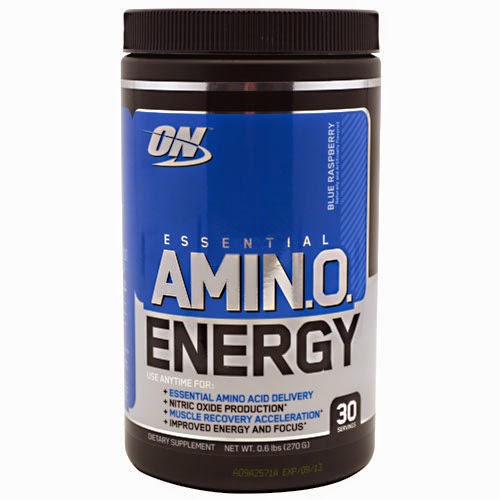 Hopefully as you're reading this we're at the St. Louis zoo before the heat of the day hits, enjoying the animals and fascinated with the size of this place (supposedly it's one of the the best in the country?).
Today I want to share a few things that I'm loving right now.
One of our old trainers (who we're still close with) gave Huebie a sample size of Optimum Nutrition's Amino Energy in the blue raspberry flavor. Oh. My. Word. It is so good! I've been using it in the morning to replace a cup of coffee. I love the flavor and it gives me a good amount of energy. You can use it pre and/or post workout as well. It contains amino acids and BCAAs to help build muscle. And there's only 10 calories per 2 scoop serving. Much better than the 60 calories from my coffee creamer.
I am so in love with my Olivia Moon blazer that I got at the anniversary sale. I was in desperate need of a black blazer and this one fits perfectly. I can dress it up or wear it with jeans, and I love the ruched sleeves. If you need a blazer I highly recommend this one.
Gap was having an online sale on Wednesday and I kept coming back to this plaid fitted boyfriend shirt. I love the neutral colors and the fact that it's fitted. Perfect shirt for transitioning into fall.
I also found these fabulous boyfriend jeans at Gap.
I only have one pair of boyfriend jeans and they have gotten a lot of love over the last year+. So when I saw these at Gap I knew I had to have them. I usually like a more fitted boyfriend and these are pretty loose, so I'm excited to get them and see how they fit.
I about died when I saw this parka for Little A. Just about died. I love the military style and the fur lined hood. It is perfect for a little girl. She had a pink fur lined parka when she was a year old and wore it all the time. She doesn't have a winter coat for this year yet so I'm hoping I can convince Huebie that she must have this one. 🙂
And y'all know I love finding new Etsy shops.
YaoCheng Design is my new favorite shop. She has gorgeous watercolor prints, greeting cards and tea towels. I am in love with this one and this one. I love floral and abstract watercolors. I can picture pretty much all of her prints somewhere in my house. Love.
I hope everyone has a great weekend. I know school starts for a lot of kids in the Seattle area in the next week or two so hopefully you're all out enjoying the last hurrah of summer!