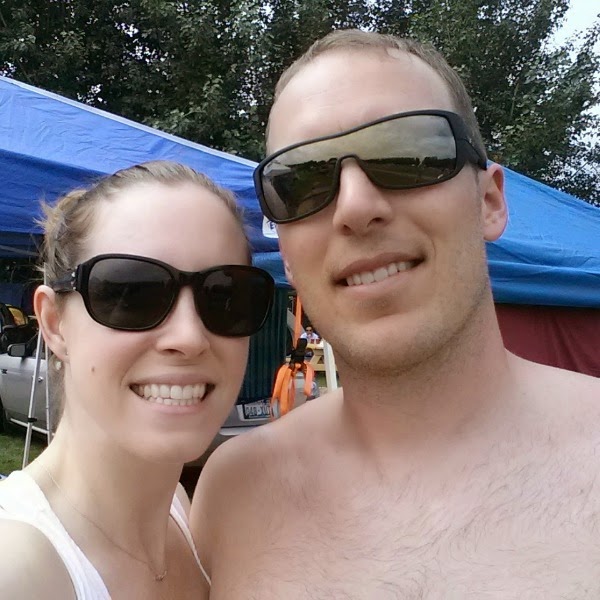 Little A and I are on our way to St. Louis to meet up with Huebie for a long weekend. He's there for 2 weeks so we thought it would be fun to take a long weekend trip to visit. I've never been to St. Louis so I'm looking forward to seeing some friends, going to the zoo and the children's museum.
If you're thinking, "Wasn't her hubby just gone last week?" Yes, yes he was and yes, now he's gone 2 weeks straight. And yes, he goes again in September and October. In total I think he'll take close to 15+ trips this year. I feel like a single parent.
But enough of my sob story. 🙂 Onto last week's adventures!
I missed posting a photo for day 226, because all the photos we took on the drive to Tom Petty were blurry. I also missed posting a photo for Saturday, day 228. I know, bad blogger! So I have a few extra photos to share with you from the weekend.
Day 227: Petty! We spent the day playing games and hanging out before the concert on Friday night.
Day 229: Sunday morning Little A video chatted with her cousin. Baby V turns one in a few weeks. She loves her little cousin so much.
Day 230: My grandma watched Little A Friday night and somehow she found one of her old pacifiers. So sis was walking around with it and holding it in her mouth a lot on Monday, pretending to be a baby. Let's be clear here though, she never actually liked the paci when she was a baby. She hated it actually. Her nanny hid it from her so hopefully she's forgotten about it by now. 🙂
Day 231: Love this girl so much! Those cheeks are so darn kissable!
Day 232: She built a house out of letter mats. She was one of the little pigs and her nanny was the big bad wolf. Such an imagination on this one.
Here are a few other photos from the week.
We had our own little camping Olympics set up at the Petty concert. Corn hole, ladder ball, football, and we even played Cards Against Humanity. We come prepared.
And the girls and I set up a wine tasting. Yes, a wine tasting. There is a winery a few miles down the road we were thinking of going to, then we realized we had everything we needed to make our own tasting. Quite the spread if I do say so myself.
And yes, we had pizza as well. My girlfriend's parents have a portable pizza oven, so they made us all pizza for dinner on Friday night. It was awesome!
Then we headed to the Petty concert. Steve Winwood was playing with him again. The last time I saw Tom Petty was at the same place (the Gorge) with Steve Winwood. They must really like playing together.
Sunday we went for a hike. Little A ran most of the hike, then got tired and wanted to be carried. She loves her daddy so much. Sweet girl.
Phew. It was a busy week last week. Looking forward to some adventures in St. Louis! Pray we stay cool!