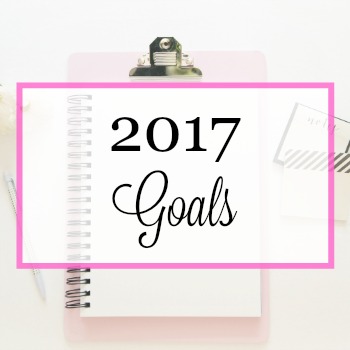 The last week of the year is here folks! I hope everyone had a wonderful holiday, whatever it is you celebrate. We spent time with family and friends and are doing more of the same this week. This will be the only post I put up this week so I can enjoy my hubby's time off and work on getting ready for the new year.
Last week I did a look back at 2016, and shared some accomplishments, challenges, and favorite posts from the year. This week I'm sharing with you what I have planned for the new year, both personal and in this space.
I only set a few goals for myself for 2016, and in looking back on them I think I was pretty successful. In March I started setting monthly goals again, and that is probably one of my favorite posts to write each month. I'm a total goal junkie, ha! (Need help with goal setting, check out my 5 step goal setting process). For now I'm planning on continuing my monthly goals into the new year. I've found it really helpful to have them to refer to, to keep me on track. I'll be setting my January goals probably next week and reviewing my December goals then as well.
Blogging Goals
I feel like 2017 is going to be a big year. Lots of changes happening: EJ turning 1. Little A starting Kindergarten (cue ugly cry) and the hubs possibly starting a new job. So while I already have a lot on my plate, I want to try to better focus on a certain key areas when it comes to blogging. I've found myself getting distracted a lot lately. I always have the best of intentions but then I'm all, "Oh someone commented on my Facebook post, let's check it out," and the rabbit hole begins. So my first goal of the year is:
-I want to be more focused and deliberate with my time. I guess you could say this is both a blogging and personal goal. I mentioned this in my December goals, but when it comes to blogging, I want to do a better job of sitting down to focus on a task and not get distracted. I've been working on that this last month and I've found that my time is utilized so much better if I don't have 10 tabs open in my browser.
If I have something that needs to get done, I just need to set a timer, close out all the other open windows, put my head down and work. I think this will help me feel better about work and will most definitely help me complete a few major things on my to do list.
-Focus on the business side of blogging. I love to write; it's a big part of why I started blogging to begin with. And I would probably do it even if I didn't make any money doing it. But the hubs would really like me to continue to cover my expenses, and I'd like to bring in a little more on the side than I did last year. I brought in a small income in 2016, and definitely could have done more had I really put my mind to it. But my heart wasn't in it the second half of the year. In the new year I want to focus on my affiliate income and working with a few brands that I'm interested in.
-Grow my Pinterest again. This was one of my goals for 2016 and I exceeded my year end goal. Pinterest drives the most traffic to my blog, so I want to once more focus on it for 2017, and work to double my followers again this year.
-Grow my Instagram. I'm not talking playing the f/uf game. I realized a while ago that's just not for me. I want followers that are engaged and loyal and who want to be there. Quality over quantity is my jam, but I also know that quantity is important for working with brands. So I need to find some time to focus on this. I have some strategies, now it's just implementing them. And being consistent with posting and my aesthetic. I've really struggled to find my aesthetic, and taking photos of more than just my kids. We will see what the new year has in store for my Insta game.
-Launch a new free resource. I have been working on a few things behind the scenes these last few months, and one of those things will hopefully be ready to launch in January or February! I don't want to give away too many details but I'm super pumped for it!
Personal Goals
So a lot of these goals are contingent on some pretty specific things happening in my personal life. It's almost hard to set personal goals right now with things being so up in the air, but I at least want to set a few, for now.
-Pay off a big portion of our debt. We still have a decent chunk of Kellen's student loan debt to pay off. I feel like we've struggled to get ahead in this area, thanks to some unforeseen expenses we had this year (like EJ being in the NICU for a week….still working to pay this off as well). So I'd really like us to buckle down and get some of that debt paid off. It would be a huge weight off both our shoulders.
-Set a new morning routine. I've been working so hard on this, but EJ has had the biggest sleep regression that has lasted months, and I seriously struggle to get up early in the mornings. (Why do they not understand that sleep is amazing?!) Once I can get him back to enjoying sleep, I'll be able to finally get up with my alarm and utilize that time while the kids are still snug in their beds.
-Read for pleasure. I started getting back into pleasure reading in July, but by October I was so overwhelmed that I didn't even start 2 of the books I'd wanted to read. I used to read at least 1 or 2 books a month, and while I know that's not realistic for me at this time, I'd love to read for pleasure a few nights a week before bed.
-Spend more quality time with my hubby. Most evenings I'm usually working in the bonus room and he is usually in the garage building sleds; so our definition of quality time these days is watching Parenthood on Netflix once or twice a week. Don't get me wrong, I love this time with him, but I really want to focus on us as a couple, not just as parents. Whether it's date nights, playing cards, or just talking, I want to have more "us" time that isn't sitting in front of the TV.
I have to admit that I'm a little sad to see 2016 go. It just tells me my baby boy is getting older, my little girl is turning into a young lady and I'm realizing how limited these years with them are. It was a tough year in many respects, but such a good year as well. I know that 2017 is going to be a really interesting year for us, so I'm looking forward to what is yet to come.
What is a major goal you have for 2017?