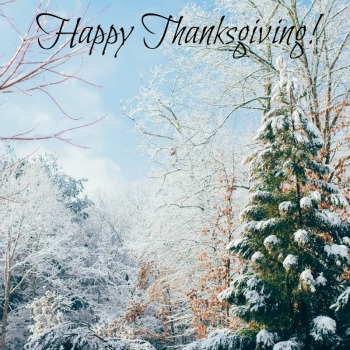 I just wanted to drop in today and wish all my American friends a very Happy Thanksgiving! I'm so thankful for YOU, my wonderful readers and friends. Thank you for being part of this amazing journey I've been on over the last few years with this blog, and even in life.
It's amazing to see the how wonderful the blogging community can be and how supportive everyone is. Sometimes people feel like blogging can be a competition. But I don't look at it like that. I look at it as this wonderful place where we can all work together to build one another up and support each other. There's no need to be in competition with the next person. There's only one you, just like there's only one me. We all have our different points of view and perspectives on things and there's plenty of goodness to go around. So thank you all for continuing to support this little space of mine. I have loved getting to know so many of you and continue to build relationships with others.
I'm always thankful for family, friends, health and happiness, but this year I'm especially thankful for you. Y'all rock!
ALSO!!! I'm having an essential oil black Friday special, that starts today!
If you've thought about trying essential oils or know someone who would love to receive the gift of oils this holiday season, now is the time to sign up! There are some amazing promos happening and Young Living has some great black Friday specials going on as well! Email me with any questions you have about the promo or essential oils in general. I'd love to chat!
I'm taking the rest of the week off with my family so enjoy the long weekend and I'll see y'all back here next week!