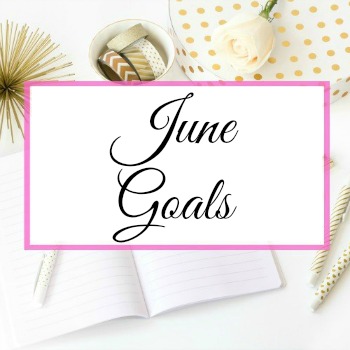 Happy Tuesday! I hope you enjoyed the long weekend! We had beautiful weather and are enjoying some extended time off with Kellen while he's home.
May flew by! We are almost half way through the year already! I need to go back and review the goals I set for this year as well.
Here's how I did on my May goals.
Practice t-ball with A once a week // Success! She is kicking booty at t-ball. It is so much fun to watch her pick more and more things up each week. She is kicking butt at batting now too!
Finish one personal development book // Success! I finished the audible version of Awaken The Giant Within, and am about half way through The Compound Effect, my favorite book, as well as The Subtle Art of Not Giving A F*ck, which I highly recommend.
Clean our windows // Partial success. I cleaned the inside of all the windows downstairs, but didn't finish the upstairs. I had all the intention of doing this last week but the weather was so good we spent most of our time outside. I think it was a good trade off.
Clean out my closet // Check! I got rid of some more things and as usual, it felt so good.
Go on at least one hike // Fail. But, we will get a lot of outside time, and we have a hike on the agenda for later this week.
Here's what I have planned for June.
Celebrate my girl // June is a HUGE month for A. She graduates from Pre-K, has two dance recitals, and her kindergarten assessment. I am so excited for the next few months and am going to be taking advantage of all the time with her before kindergarten in the fall.
Get outside // After being cooped up for 5 months, the weather has been amazing this last week and a half, and I think it's here to stay! We are spending every day outside to make up for the months of hibernation.
Establish a new schedule // Now that A won't have school, we need to adjust our schedule a bit. No more school drop off and pick up, so I need to find things for us to do to occupy that time. Most likely it will be going on walks and going to the park. She also has dance 4 days a week starting in July, so I have to figure out how the heck I'm going to do that by myself with EJ. I need a babysitter.
Keep my eating on point // I've been really focusing on my nutrition over the last month. I weaned EJ a few weeks ago, so now I want to make sure I'm not taking in any extra calories that I no longer need. I struggled with this with A at first, so I'm more aware this time around. Also, not drinking wine during the week has made a huge difference as well. I want to continue that into June (at least not drink wine every night of the week, ha!).
Make one new meal // With Kellen gone, our meals have been pretty routine for the last few months. I want to try to incorporate some new flavors and get A trying new things. So I want to make at least one new recipe that hopefully all three of us can enjoy.
I've had a few people ask about my blogging goals. I've been keeping those in a separate area and set weekly goals for myself, so I don't record them very often in these monthly posts anymore. But yes, I am still setting them.
I plan to take another blogging break some time this summer as well. I've done it for the last few years and it's been so nice to step away and not feel like I need to get two posts up each week. I'm sure I'll let you know before it happens. 🙂
Tell me a goal you have for yourself in June!