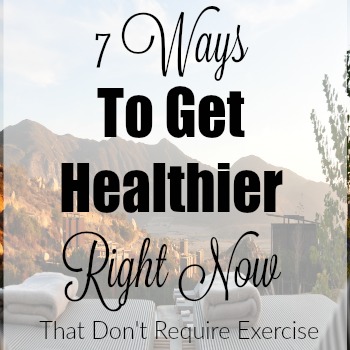 Being health is more than just working. Implement these 7 tips for simple ways to get healthier right now.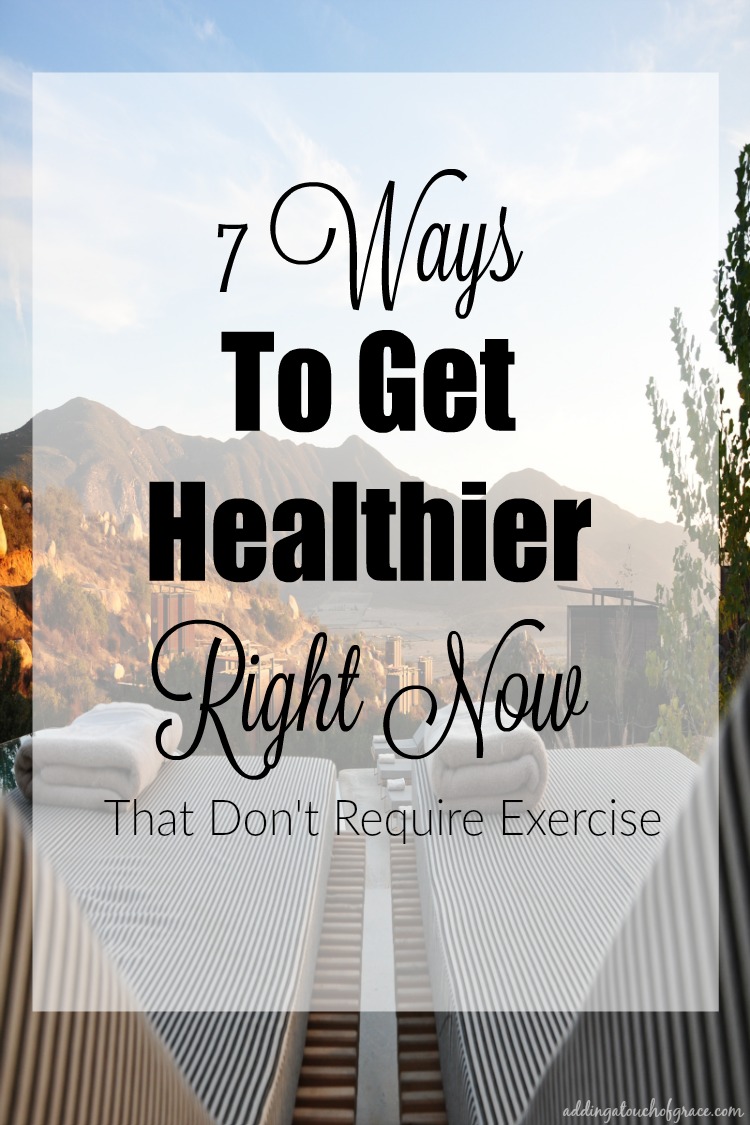 When you think of "health," do you instantly think of working out for endless hours a day? While exercise is important and what I consider to be a top priority in life, beyond that, there are other ways to get healthier right now that don't require exercise. Being healthy is more than just fitness; it's having soundness of mind and body.
If you want to instantly be healthier, try a few of these.
Watch less TV
Do you know how many hours the average American wastes watching television each year? No? Well I looked it up for you. The average American watches over 4 hours of TV a day. That's 28 hours/week, 2 months (nonstop) a year, and over 9 years in a lifetime (assuming someone lives to be 65 years old). Puts things into perspective doesn't it?
Think of all the things you could be doing with that time! Try journaling, going for a walk, talking to someone, sitting in silence for a bit. The possibilities are endless!
Take Vitamins
Vitamins are essential to a healthy, strong body. If you aren't getting enough vitamins in your food, you need to be taking supplements on a daily basis. Currently I'm taking a prenatal (since I'm nursing) as well as Omega-3s. Figuring out what vitamins to take can be overwhelming sometimes, so I broke out what I normally take in my vitamins & supplements post (need to update the photos in that post, ha!).
Drink water instead of soda
I've said it before and I'll say it again. Cut out the soda! It has no nutritional value and does your body no good. Plus it has so much sugar (39 grams in a can of Coke). Just stop!
Get more sleep
Not getting enough sleep can be detrimental to more than just your energy level. Lack of sleep contributes to weight gain, excessive eating and memory loss. It can also increase stress levels in the body and nobody needs more stress in their lives. I definitely don't!
Eat more whole foods
If you've read my post on how to eat clean, then you know that eating whole foods is one of the easiest ways to detox your body and lose weight. Our bodies work best when we eat fruits, vegetables, lean meat and whole grains.
A few simple ways to get healthier right now. No exercise required.
Click To Tweet
Spend time in silence
Let your mind rest. This is the #1 thing I struggle to do; just sit in silence and rest. I always feel like I have so much to do that I can't waste a moment. But our minds need rest. Constantly being on the go can lead to added stress on the mind and body. Just being is hard for many of us, but a great way to rest and rejuvenate.
Try going natural
Look for ways to incorporate more natural remedies into your life. Herbal remedies, essential oils (my personal fave), even acupuncture, are all great things that can help you be healthier without exercise.
Being healthy isn't always about how much you exercise. Yes a good fitness routine definitely helps, but if you're like many of us, it takes thoughtful planning to devote time to exercise. I am right there with you when it comes to finding time to "fit it in." So when I fail at getting my fitness on, I try to make sure I'm incorporating a few other healthy habits. There's a lot I can't control in my life, but my health is one thing that I can. So I do my best to live a healthy lifestyle. Try incorporating a few of these simple principals and you'll most likely start to see some changes in your mind and body.