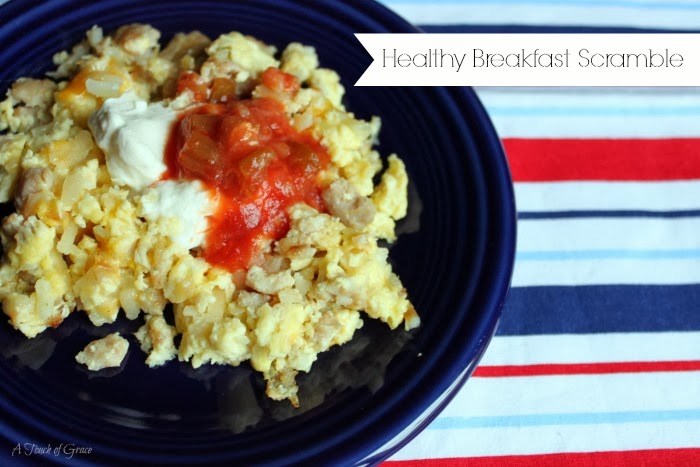 How is everyone's new year going so far? We've had a few sleepless nights with a sick little girl who may have whooping cough according to the doc. Not the way I wanted to start my new year, but I suppose it can only go up from here right?!
So, sorry for the late post today. We've been running around to the doc, pharmacist, grocery store for warm soups. She's finally sleeping with Daddy so I scrambled to the computer to get this post out for you all.
One of my goals for 2014 is a healty lifestyle. Huebie and I are both pretty health conscious, but definitely have our weaknesses (mine being baking, chocolate, most things sweet honestly). Sometimes our lives get so busy it's hard to make time for healthy cooking. We get caught in ruts, like I'm sure most folks do, and just eat whatever is convenient.
This breakfast scramble is not only healthy, but it's quick and easy to make. Always a plus in my book.
Ingredients:
* 8 eggs, scrambled
* 1/2-1 cup egg whites
* 1 lb chicken sausage
* 1/2 bag frozen hashbrowns
* 1/4 cup lowfat cheddar cheese
* Any veggies you want to add (I like to add bell peppers, spinach and onion)
Directions:
* Brown sausage in a skillet on medium-high heat. Remove from pan into a separate bowl.
* Using the same pan, brown the hashbrowns.
* Add eggs and egg whites, and scramble until eggs are fully cooked.
* Add veggies and cook about 2-3 minutes, just to warm the veggies a bit.
* Add cheese and cooked sausage.
* Mix and serve.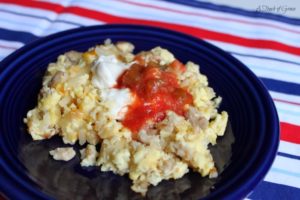 I like to top mine with fat free sour cream and salsa. Makes it a little creamy. Yum.
You will have lots of leftovers, which can easily be reheated for breakfast the next day.
I'll be back tomorrow (hopefully) with a Pinterest inspired outfit for you!